Top 11 Strategies to Build Customer Trust Instantly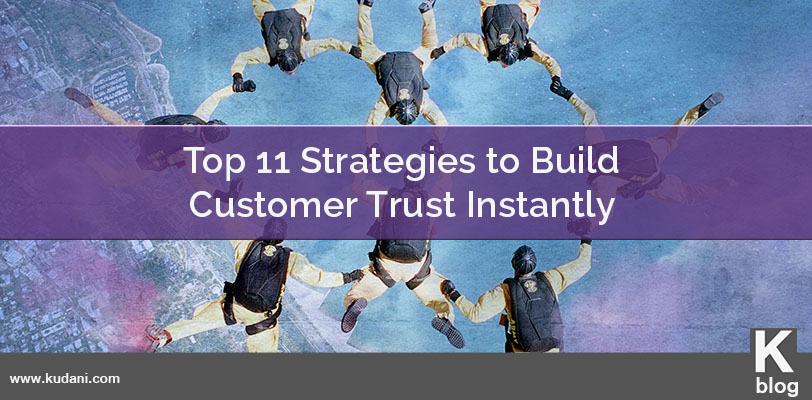 Successful companies grow their businesses through trusting relationships. They understand the importance of this connection. They know that when customers trust you they will stick with you for life.
But while trust is a key component and something that everyone wants, it is certainly not something that comes easily. Trust requires hard work, longevity, consistency, and so on.
According to a Concerto Marketing Group and Research Now survey, when customers trust a brand, 83 percent will recommend a trusted company to others and 82 percent will continue to use that brand frequently. While hardly anyone talks about the time you went above and beyond for a customer, you'll certainly hear from the disgruntled ones if you failed to make a deadline or delivered a product that didn't do what you promised."
Brian Hughes says that while, "Truly great businesses know the secret to customer retention lies in customer trust…hurt this trust and you've just handed your competition a brand new customer."
You need to be patient. Start slow. Establish bonds and engage with potential customers regularly.  These are just a few of the things you should take note of, but read on to learn some valuable lessons that can strengthen your bond and begin to build trust instantly.
Free Download: Start building trust today with these proven strategies. Grab your copy of the Top 11 Strategies to Build Customer Trust Instantly.
Display Logos and Trust Certificates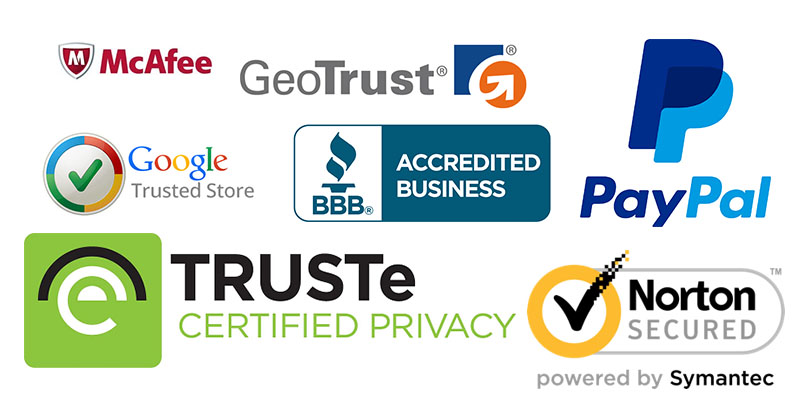 Displaying the logos and site seals of organizations that provide your business with payment processing services, SSL certificates, verifications or other relevant systems or services can make a huge difference in a customer's mind. As an example, PayPal is one of the most trusted payment processing systems known around the world; while GeoTrust is a very reputable provider of SSL certificates (something required for any website to sell goods online securely.)
Google also runs its well-known "Google Trusted" program, certifying that member stores provide reliable shipping and excellent customer service. Customers can also feel safe in the knowledge that when they shop with Google Trusted Stores, they will receive free purchase protection on their transactions.
Making your customers feel safe is one of the greatest indicators of trust. Site seals let your potential customers know that you have taken the necessary precautions to keep their information safe. Take the time to research the available options and include them in visible areas on your website (generally they are shown in the footer area). It's your responsibility to help instill trust and confidence.
Invest Time and Money in Your Website
Your website is the first impression potential clients have of you and your business. If your customers don't think you put much effort into it, they will likely believe you handle all areas of your business carelessly. Having a professional website inspires trust and credibility, which will increase your sales and referrals. You must have a clean design and quickly fix any broken links. Sometimes, setting up a professional website requires training and experience; it is also time-consuming. If you don't know how to do it yourself, it's vital to have a professional web designer; this ensures your website is professional and inviting.
Be Transparent
Today's consumers want to feel good about the products they buy and the companies they support. And transparency plays a big role in that, from disclosing information about your company and products to telling true stories about your brand. It demonstrates open communication and helps to build meaningful relationships with consumers.
As a result, transparency can differentiate your company as honest, authentic and socially-conscious – qualities that build brand trust. In turn, trust can increase your sales, loyalty and lifetime value per customer.
Forget the Jargon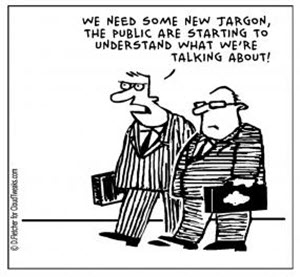 It's easy when you first learn new things to want to use jargon. It sounds cool, it makes you more confident. It makes you feel like an insider. Sometimes it breaks down the trust between you and your clients. I think this has changed over the years, because we are exposed to so much jargon.  Most clients trust you more when you find better ways to communicate ideas simply.
Just take a look at this…
A study by New York University tested the affect that jargon had on audience response. They asked subjects to read two sentences that conveyed the same facts but used different word choices. One sentence was clear and concise while the other used more terminology. After reading the sentences the subjects were asked to rate which statement was more accurate.
The researchers found that subjects preferred the more concise sentences. They were perceived as true because people could picture the ideas more vividly than the complex sentences.
There's certainly a time and place for jargon, but if you are using it to try to shine in your clients eyes you may actually be doing the reverse. Communicate clearly, be conversational and speak in a way that is commonly understood by everyone. Never make assumptions that your customers know geek-speak or any other industry related jargon.
A recent article published in CopyPress stated that "jargon makes you untrustworthy… Using extensive jargon isolates potential clients as often as using five-dollar words annoys your friends. It's like saying indubitably instead of yes. Even if you don't lose them with complex terminology, you'll still sound pretentious."
So focus on building trust through effective communication and lose the jargon when talking to clients.
Allow Customers to Post Reviews
We all trust recommendations from friends and loved one, but what happens when you are interested in a company that no one you know has a relationship with?
Online customer reviews have become the go-to place for people trying to make a decision about a product or company. In fact, the stats from studies over the past few years show us why this is an area that you must take note of.
Here's why…
Seventy-five to 90 percent of consumers read reviews before consulting a business, according to research by marketing consultants InvesPro and BrightLocal. InvesPro's research showed that 88 percent of consumers trust online reviews as much as a personal recommendation. BrightLocal's 2015 survey showed that two-thirds of U.S. Internet users trust businesses more if they have positive online reviews.
Jeremy Gin from SiteJabber says that, "Tech-savvy customers will trust your brand more if they see legitimate customer reviews from independent third-party review sites."
At SiteJabber they have found that there are three key takeaways for businesses:
More is better. Businesses with more than 1,000 reviews receive 672 percent more leads and have an 18-percent higher rating.
Customers don't trust reviews if they don't see at least some bad ones. Businesses with 10-30 percent negative reviews actually receive more than 10 times more leads than businesses with nearly all five-star reviews.
Respond professionally to every review. Businesses that respond to every review have an 86-percent higher rating than those that don't.
The Customer is NOT Always Right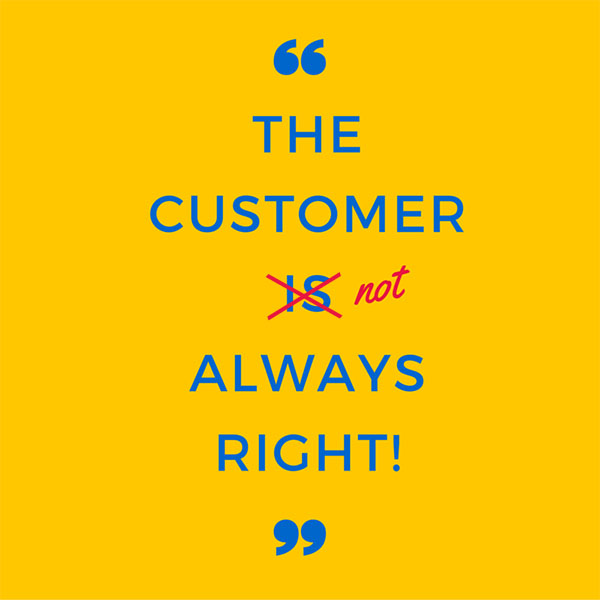 When is the cliché "the customer is always right" actually wrong? When the customer thinks they need one type of service or product, but you know they'd actually benefit from a different, better solution. To build trust, you need to get to the heart of what your customer truly needs.
Brian Hughes says, "Maybe your product isn't the right fit for a potential client's business growth strategy. Don't simply go along with what a customer says because they're "always right." Be honest and point them towards the product that is the right solution. You'll build trust and earn an invaluable reputation as a straight shooter, rather than an up-seller."
Deliver Fresh Content Regularly
The customer relationship begins from the moment someone visits your website. But it's not enough to make that first touch. You need to go further than that by encouraging people to come back for more. You need to stay on their minds or they are going to forget about you and look to one of your competitors.
One of the main reasons why people don't return to a brand's website is because it's stagnant. They have no reason to come back because they've seen it all before. A blog gives them a reason to keep coming back for more. They know that every week or every two weeks there's going to be a new piece of content for them to consume.
So make sure that you are delivering fresh content. Find a realistic schedule that you can stick to. Consistency is better than short spurts of volume. Don't worry if you are not able to write every single week. Instead make a commitment to every two weeks and stick to that. Even better publish on the same day of the week. This way you are training your visitors to follow your publishing schedule.
Be Accessible
Let me interject with a little story here…
About four months ago I bought a product on JVZoo. I knew I would be too busy to get started with it immediately due to a number of other projects on my plate. So just let it sit there.
Then when I was finally ready, I logged into JVZoo clicked on the 'Access Product' link only to find a 404 page. I was shocked. I immediately contacted the listed support email. Six days later…and no response.
I then contacted JVZoo support. They said that they would contact the vendor and have them reach out to me. Sure enough someone did email. As it turned out they ended up selling the product on Flippa and did not even own the product any longer. On a good note…they were able to get me a copy, but what a horrible ordeal to have to go through.
I'm sure you can imagine how frustrating this experience was. Maybe you can even relate.
Be accessible. Make it easy for your customers to get in contact with you.
Shep Hyken says, "People do business with people. Offer multiple channels through which a customer can reach you for support or questions – a call center, email, texting, Facebook, Twitter, etc."
Position Yourself As An Expert
Establish yourself and your team as thought leaders and experts.
There are three easy ways you can get started:
Define your brand and goals for engagement: Start off by defining what your company's value proposition is and what you want to be known for. Determine what goals you have for social engagement.
Establish your presence through social channels: Ensure your website is a strong reflection of your company's value proposition and build your business' social presence on outlets like LinkedIn, Facebook, and Twitter. Demonstrate your expertise by showcasing great content such as customer stories, whitepapers, blogs, and videos.
Listen, engage, and respond: Engage in social listening to understand the perceptions of your company and programs. When people ask you questions or provide commentary on your posts, follow up.
Focus on the Customer Not the Sale
Tony Zambito says, "Problematic to content marketing is that many efforts are skipping over the needed investment in brand trust and engagement.  Rushing, if you will, into positioning content strictly in terms of lead and sales conversions.  Failing to realize that this misguided rush makes their content overbearing and big – too big to get through the eye of the needle."
When you clearly understand your customer struggles, problems, and goals you are able to deliver content that speaks directly to them.  Content that actually helps, educates, and solves problems.
Leading with customer focused content today means creating a strong linkage between the brand promise and the deep understanding of what customers are attempting to accomplish.  In today's new digital marketplace, the prospect of content – perceived to be in the form of a sales cold call – getting through the eye of the needle will be severely diminished.
Check Your Server Uptimes and Security
No one wants to visit a website and see that it is down or has some kind of security warning. That is the fastest way to scare off potential customers.
When choosing a hosting company for your website you want one that has reliable servers and preferably ones that are fast. James George says, "You want a server with great uptime rates, meaning that the server won't get overloaded and crash in the event that you get a lot of web traffic, which can kill your sales in an instant and damage your image of reliability and professionalism."
Security breaches are also a concern. If the federal government can be breached to the point that thieves make off with the personal information of four million people, then your customers' info can be stolen too, so invest in thorough protection.
Here are 3 tips to get you started on the right track:
Add a SSL certificate to your domain
Install a security plugin, like SecureScanPro to your website
Sign Up for Uptime Robot and get notified the minute your website is down. It's FREE.
Conclusion
Trust is at the core of any successful relationship. It translates directly into growth and retention. And most importantly lifelong customers that will continue to buy from you and recommend you to friends and loved ones.
Start building trust today by making sure to include trust seals on your website, being accessible, transparent and always focusing on the customer. Understand their needs and wants. Communicate with them clearly without using jargon. Let them get involved by posting reviews. These are all a great start. Implement them today and watch how quickly you begin building trusting relationships.
Next Step:

Download

this article in a PDF (it was created with Designrr)
Sources
Jargon Image Courtesy of Jargon Examples