The Ultimate Content Marketing Guide for Startups
Are you a startup just starting out? Are you juggling way too many things at the same time? Not sure where content marketing fits in the big picture? Then this is the article for you.
Startups have numerous struggles with most being rooted in a lack of money or time. Startups are different from traditional businesses primarily because they are designed to grow fast. By design, this means that they have something they can sell to a very large market. For most businesses, this is not the case.
There are many things that need to be taken care of simultaneously and with limited budgets knowing where to allocate resources can be challenging. Most often content marketing gets pushed to the way side. It seems to be an afterthought rather than taking a front and center role.
Free Download: Take action today with these helpful tips. Grab your copy of The Ultimate Content Marketing Guide for Startups in PDF.
John Rampton says that, "the more pressure a company has to create content, the more likely it is to create poor, less engaging content. This is the Catch 22. The minute a small business starts pumping out content that's bad, there's no audience, and it's a waste of everyone's time and money. There are hundreds of sites already that have bad content – and people still continually read it and post to social feeds. Go onto Odesk or any other pay for hire site and you'll see hundreds of requests for $5 blog posts."
He continues to say that the most of the content produced from such sites is low quality from third world countries. The writers are not native speakers and often do not know or apply best writing practices. And if that's not bad enough they have been known to outright plagiarize the work of others passing it off as their own. Certainly, this may not be in all cases but important to factor in when making decisions.
Producing such content can have grave repercussions. It speaks directly to the company's brand and integrity. You are better to write no content at all than to add low quality content to your website.
But no matter how you look at it at some point you will need to produce content. Preferably, your content will be high quality and there will be lots of it.
So how do you do that? Especially, when you are limited with time and resources. In this article I will cover the key factors that you need to incorporate to give your content marketing a winning advantage.
Let's get started. Here's what you need to do:
1. Produce Only the Best Types of Content
Within the content marketing mix there are several different content types. You can produce anything from ebooks, to blog posts, whitepapers, slideshares, etc. The list is actually quite expansive.
The problem is that while all types may be good some are easier than others to produce. And certainly some will have better results than others.
So how do you know what you should be writing?
Here are the best and worst types of contents for startups. This is just a short list. The best way to decide whether or not a certain type of content is for you at the beginning is based on the following factors:
How long will it take to produce?
Who will write it?
How much will it cost?
Best Types of Content for Startups
1. Write content that directly applies to your product or service. Tell your users how to get the best out of it. Wherever possible use images and charts. Overall, step-by-step tutorials are the best. They are easy to write, you don't need to hire anyone, and your readers will find them extremely helpful.
2. Create screen share videos showcasing best practices for using your app. Talk through all the different points. Explain them in detail. Such videos will take no time to make and they are easy to do as you know your product well. Then hire someone (possibly at Fiverr or oDesk) to transcribe the piece. Generally, the content is longer so more of an SEO advantage. You could even use this as an content upgrade and have them optin to get a copy of the transcription in PDF format.
Worst Types of Content for Startups
1. Avoid all content types that are time consuming to create, such as white papers. While these are great for businesses they are one medium that you should avoid in the beginning stages. White papers are well researched and documented, which means that they can takes weeks if not months to produce. For this reason, it is not the best use of your time in the early stages of operation.
2. Infographics are another content type that is both timely and costly to create. While they do get loads of traffic it might be best to avoid this in the beginning.
Neil Patel says that "infographics typically start at $1,000 a piece to produce". Certainly money that can be better spent elsewhere.
2. Get it Right the First Time
Many startups have this idea that they will focus on content marketing later on. It's what I refer to as the "When I…" mentality. When I get more money I will do this, when I have more time I will do that. Instead they need to be focusing on getting their content marketing strategy right from the start. The better you position yourself in the market from the get-go the more it will pay off later on.
Does this sound like you…
"When I am earning xxx amount of dollars I will get to it."
"It's not that important – I will hire someone when I have more money."
"I have no time for content."
"It's not that important."
Melani Dizon put together some really helpful tidbits in a recent article. She shares some stats that we should all pay attention to.
She starts with this…
Did you know that seventy percent of B2B marketers created more content in 2015 than in 2014, and 48% of B2B marketers have a content strategy. Why? Because great content gets shared, brings in leads and widens your funnel – for a helluvalot less, in most cases, than paid ads.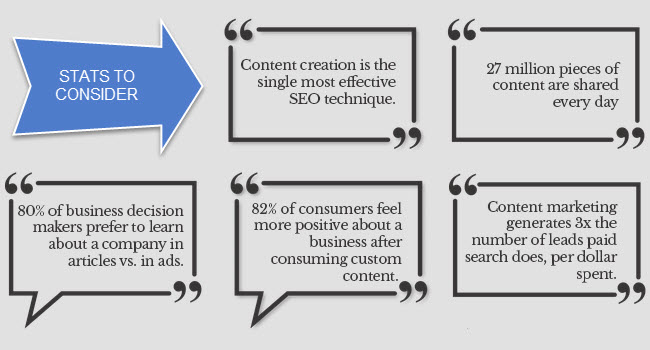 The Content Marketing Institute spells out the value of content well:
• Content marketing generates 3x the number of leads paid search does, per dollar spent (source)
• Content creation is the single most effective SEO technique (source)
• 27 million pieces of content are shared every day (source)
• 80% of business decision-makers prefer to learn about a company in articles vs. in ads (source)
• 82% of consumers feel more positive about a business after consuming custom content (source)
And if you're still not sure whether content marketing is worth investing in – and doing right – here's a deck to convince you:
Mastering the Buy-In Conversation on Content Marketing: The Essential Starter Kit from Content Marketing Institute.
3. Invest in Quality Tools
There is nothing more frustrating than being challenged with a task and not having the right tools to work with. Do your research up front and invest in tools that make a difference. Tools that will help you work faster and more efficiently.
Gregory Ciotti says that, "content marketing starts with having a company blog, so you'll need some sort of software that lets you create a blog in addition to your company's homepage/salespage."
He recommends using a self hosted WordPress blog. I agree completely with this. The WordPress platform is excellent. WordPress itself is free, albeit there is the cost of hosting. As well, there are tons of plugins and themes available to customize your website both free and paid depending on your budget. And 'yes' even some of the free ones look great. You can download WordPress here at WordPress.org.
The next thing that you will want to consider is adding a newsletter to your content marketing mix. Not only does this allow you to build your email list, but it allows you to begin building relationships and thus engagement.
Ciotti says that, "people are much more likely to buy via email than over social networks, it's a much more private tool that is typically used to get stuff done, rather than check out articles and pictures from your friend's BBQ. Focus on email above all else."
Some of the more common ones include AWeber, GetResponse, and MailChimp, but there are several others. Others that you might consider looking into include ConvertKit, Campaign Monitor, Constant Contact and Infusionsoft.
You will also want to consider investing in a content marketing platform. Platforms such as Kudani help you to expedite your content discovery and creation workflow.
Here are some of my favourite things about Kudani. You can…
• easily build a library of targeted content
• find content based on social sharing metrics
• create a customized image template that you can use for branding your business
• drag and drop snippets of content to create a curated blog post super fast
• one click on-page SEO checker
• post directly to social media (takes approximately 4 minutes to post a week's worth of content)
4. Create an Action Based Content Marketing Plan
Benjamin Franklin once said…
" If you fail to plan, you are planning to fail!"
There could not be better advice for a startup than this. Creating a strong actionable content marketing plan can make the difference between your success and failure.
As with most things in life, your chances of success increase when you have a solid plan in place. To create your startup marketing plan of action ask yourself the following questions:
• What are your goals?
• What is your theme?
• How will you track and measure success?
• Will you rely heavily on social media?
• How can you ensure that all of your content is easy to share?
• Will you guest post on blogs, or post primarily on your blog?
• Will you send out a monthly newsletter or periodic email marketing?
• Who will provide your content curation and distribution?
• What methods of content marketing should you test first?
This list has been provided by Outbrain. It serves as a great starting point.
5. Add Guest Blogging to Your Marketing Mix
Traditional public relations is extremely costly and one avenue that you might want to leave out until your startup is bringing in sufficient revenue. But all is not lost. There are many other ways to get your business the attention it deserves.
Kathryn Hawkins at Eucalypt Media says that, "the harsh truth is, unless you're Google or Apple, no one really cares about your press release. It's not likely to gain traction among the tech blogs, and spending thousands of dollars on press releases and distribution is almost always money poorly spent."
She however, suggests that there are better ways of getting the coverage and attention for your startup on tech blogs: developing a guest blog strategy. As an agency that offers guest blogging they have been able to develop informative, helpful articles that appeal to top tech blogs' target audiences, they've helped their startup clients get published on top sites such as VentureBeat, Forbes.com, and KillerStartups.
While the posts they write may not be directly focused on your company's mission, they go a long way towards getting your business on your prospects' radar, and can help you build high-quality backlinks from authoritative sites, increasing your search engine rankings. Additionally, by developing opinionated "thought leadership" content, you're far more likely to get on media publications' and event planners' radars for interviews and speaking opportunities, as the startup Groove has discovered.
6. Build a Winning Team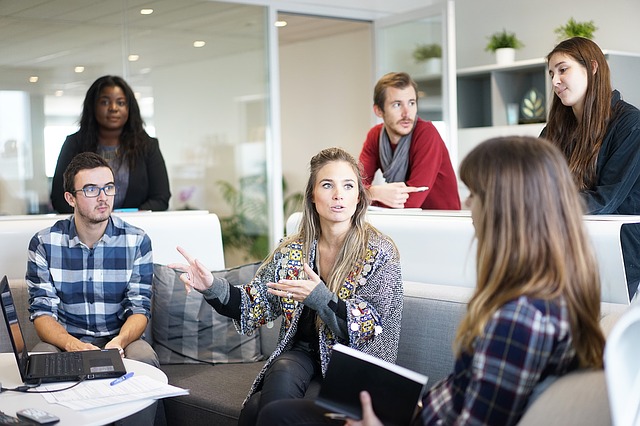 There's no doubt that the people you hire play a huge role in your success. When it comes to content marketing get the whole team involved. Have different departments write about their unique advantage point using your software. People working in different departments bring different perspectives all of which can speak to your target audience.
But finding great staff is not always easy. Kyle Lacy at HubSpot says, "it's great to know who to hire but how do you find the diamonds in the rough to build a powerful content marketing team?"
These are the tips he recommends:
1) Recruit from Unlikely Sources
You don't need to recruit from the same industry or even vertical. You should search for people who have differing opinions and skill sets from your own. For example, you could find the Data Scientist at a university — not at a competitor. According to EMC's Data Scientist Study, 27% of those who were surveyed claim that the best source of big data talent is "professionals in disciplines other than IT or computer science" and 24% say the best is "students studying fields other than computer science."
2) Go to Events
Use a site like Eventbrite or Meetup to find networking events in your area and meet potential candidates. Content marketing and marketing research events would be extremely valuable when searching for the right kind of people.
3) Train Your Current Staff
You may have people on your team already who could adjust their skill sets to become a Managing Editor, Social Media Manager, or Data Scientist. Ask your best people if they want to expand their horizons and become better versions of themselves — all while having a bigger impact on the company.
Concluding Thoughts
This is a great time to be involved in startups. But as with anything they too have their struggles – namely money and time. So how do you implement a successful content marketing strategy with limited resources.
Start by deciding exactly what types of content you will produce. This alone can give you a huge advantage. Easy to produce content that is created quickly will allow you to have higher volume resulting in more traffic. And make sure you plan for success. Create an actionable plan and stick to it. Plus, don't forget to invest in quality tools that help speed up various processes. And lastly, hire a winning team.
Next Step: Download this article in a PDF (it was created with Designrr)