Kudani Introduces Customized Post Templates
Ever get frustrated with the limitations of the WordPress editor? Do you wish you could have more control over design and layout?
What if you could fully customize every aspect of how your post looks? Well now you can.
We are extremely excited to announce the inclusion of post templates.
With post templates you can make each blog post look professional with a unified appearance for branding. Create one or several templates based on the type of article you are writing. Finally, save time and speed up productivity.
Feature Highlights:
Choose from pre-made CSS themes or create your own
Drag and drop formatted segments to build your template
Each section is fully customizable
Highlight content from RSS feeds and with one click add to the selected block
Add images directly from the gallery with 1000s of copyright free images to choose from
Add videos directly into video blocks
Use the Headlinr tool to generate engaging headlines
Not sure if you are ready to work with templates? Here are some great ways they can benefit your work.
Free Download: Customized templates are a great way to brand your business. Download and save this article for future reference. And if you are not yet a customer make sure to checkout www.kudani.com to learn more.
How Templates Can Improve Your Productivity
Saves time – with your templates already formatted you no longer have to worry about how to visually layout out the text and images. Instead you open the template you want to use and add the content directly to the available blocks.
Clear expectations with writers and team – no longer do you need to go back and forth with writers about layout. Communicate which template to use when creating a task for your writer and they will be able to select and edit without further instructions.
Quick client approval process – when working with clients simply show them a few layout options – get the approval – and begin writing.
Versatility and customization of layout – with the ability to either select a pre-designed layout or create your own your options are endless.
Brand consistency – with a unified presentation of blog posts you are building your brand.
Maintain focus – with the layout details out of the way you can focus on what is most important, namely your content. Spend more time curating and creating valuable content your readers will want to share.
Preview – let's you see in advance how your blog post will look.
Templates in Action
When creating a new template start by selecting a theme. There are three themes available: modern, subtle, and classic. Each having its own unique CSS styles.
By clicking the download button the theme is automatically added to the editor and ready for you to add your content. However, if you would like to further customize a theme to match the styles and colours of your blog you can click on the edit button. This will open up the styles editor where you can select size, colour, font of heading tags, as well as, link and paragraph styles.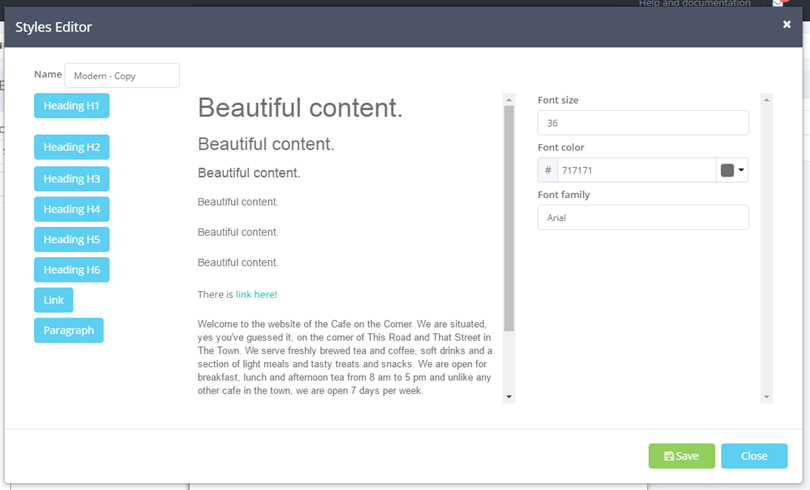 Once you've completed your style customizations you can begin adding the layout blocks. Scroll through the list of options, hover your cursor over the one you want to select, and drag-and-drop it where you would like it to be positioned.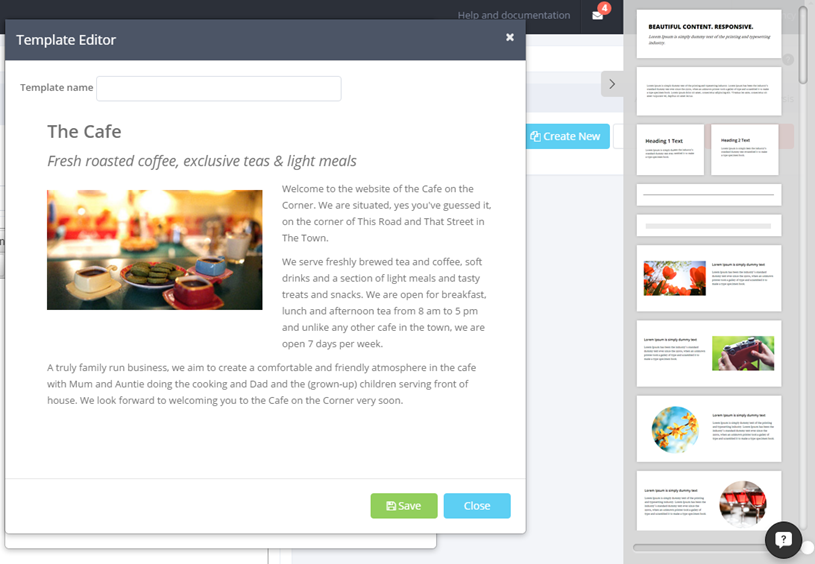 Below you can see the final result of the test template that I created. I could have made it much longer and added more elements, but for now I just wanted something short and sweet that stands out from the typical WordPress post layout. The next step is to customize and publish a post using this template.

Voila! Here is the finished blog post. Click here if you want to see it live or if you are interested in learning more about Kudani.

Next Step: Download this article in a PDF (it was created with Designrr)