10 Steps to Catapult Your Online Business with Content Marketing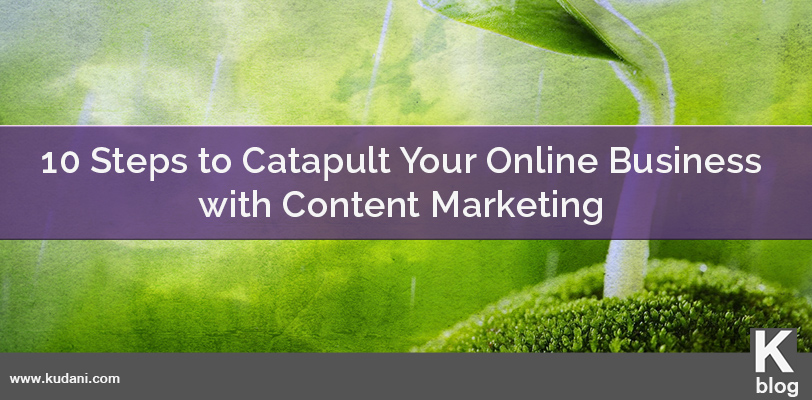 Ready to take your business to the next level?
By now, I'm sure the term content marketing has come your way. Maybe you thought it was just a fad or a passing buzzword. Maybe you thought you would get by without it. Well if this sounds like you then you may want to rethink your strategy.
In fact, content marketing has become one of the fastest growing marketing channels ever.
Not convinced?
Here are some recent B2B stats that may change your mind…
1. 88% of B2B marketers currently use content marketing as part of their marketing strategy.
2. 61% of the most effective B2B content marketers meet with their content team daily or weekly.
3. The most effective B2B content marketers allocate a larger portion of their budget to content marketing: 42% of their total budget, compared to 28% for less-effective marketers.
4. 76% of B2B marketers say they will produce more content in 2016.
5. 85% of B2B marketers say lead generation will be their most important content marketing goal in 2016. Sales will be their second priority.
But before jumping in there are a few things you may want to know. Follow along as I walk you through the pivotal steps needed to grow your online business.
Free Download: Jump start your online business growth today. Grab your copy of the 10 Steps to Catapult Your Online Business with Content Marketing in PDF.
Let's begin…
Step 1: Get Educated
Pablo Binkowski, at Dendrite Park, says that growing your business using content marketing is much like imagining your business as a tree.
Essentially, it needs to have solid roots to keep it stable. So, you must invest in reliable hosting and infrastructure that can support the traffic your website is going to get. First thing to remember is making sure you follow the SEO (search engine optimization) best practices to ensure your content is visible to Google and can be easily found by your audience. Analytics will help you understand your audience's behavior and allow you to make tweaks to increase engagement and conversion rates.
The trunk is your website. You want to make it strong and filled with high quality content so your visitors have a reason to come back to it and share it across social media. You'll want to use landing pages with sign up forms to capture the leads. It's so much easier to engage in conversation with people who actually want to listen to you! The branches therefore are the crown of the tree, which represent various social media platforms where you can share your content.
The infographic below illustrates the key elements to growing your business online. Examine all of the different branches to see where the emphasis and focus should be.
Step 2: Define Your Mission Statement and Goals
One of the biggest mistakes made by many online businesses is to jump right into tasks without first identifying goals and an overall mission. Who are you writing for? What do they need? What is your aim?
Steve Olenski says, "before you start brainstorming ideas, it's a wise idea to sit down and really think about the aims of your content beyond the SEO benefits. This will help give you an anchor to all of your future assignments."
He says that a simple mission statement will communicate your objective. For example: "Brand X seeks to provide fun, healthy and nutritional advice and recipes for busy parents on the go to help improve their family's eating habits in a healthy, sustainable way."
Within this statement, you can easily isolate the target audience (parents on the go), content form (in recipes and time-saving healthy eating tips), and main objective (to improve their family's eating habits in a healthy, sustainable way).
Beyond the mission statement, he suggests you'll want to establish a clear breakdown of the type of content that you'll be providing.
Based on the earlier example, this breakdown could look like:
40 percent recipes and advice, and otherwise interesting content to foster cultural engagement
20 percent content curation from other sources
20 percent brand promotion, including press mentions
10 percent product-related ideas
10 percent promoting company culture with intent to recruit new talent and company updates
Step 3: Target the Right Stages of the Marketing Funnel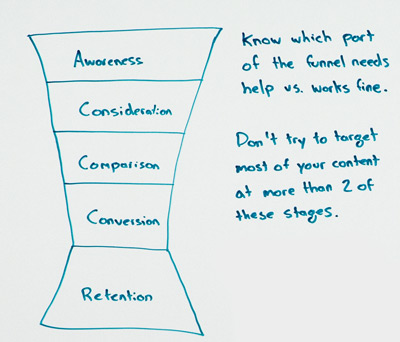 Image Source: Moz
If you are not familiar with marketing funnels, here's a great explanation of how they work from Rand Fishkin.
People become aware of a product. They have some consideration for whether it's something they might actually want to buy. They do some form of comparison against other solutions. They decide to convert or not. Then there's a retention element. Retention element is less true in a lot of B2C fields, especially eCommerce one-time purchases. It's generally more true in the B2B world.
He continues to discuss the need for targeting the right stages of the marketing funnel.
Rand says, "I think one problem that we have in B2B marketing is a lot of times we target the wrong part of the funnel. This is actually really common. In B2C, usually things that hit on one of these hit on a lot of them. The same things that create awareness about a product or a brand also help with conversion, also might help with comparison because of brand affinity, and also might help with consideration and retention. It's less true in B2B, not to say not true at all, but less true. So I think one of the jobs that we have is to look inside our funnel and then identify which part needs help versus which part works fine."
He continues to explain that another thing that is very important here is "For the majority of your content, don't try to target it at more than let's say two of these stages. I might say, "Hey, I've got a piece of content that I think can work really well for awareness and consideration." Or it's much further down the funnel. It's for people who already know us and are already considering us. It's really about comparison and conversion or about conversion and retention. That's fine. I think when you get into trouble is when you say, Hey, you know what, this is going to help throughout the funnel — awareness, consideration, and conversion. Well, that tends not to be the case. That's not to say it can never happen."
Step 4: Create Amazing Blog Posts
I'm sure you've heard it all too many times before. Write great content. Provide quality and value.
Well the truth is that high value content that solves a problem experienced by the reader will get you the best results. However, that said regardless of how great the article is if no one ever reads it you've lost. You need to go a step further by driving traffic to the content via social media and guest blogging. The benefit here is that once your traffic hits your article they will be more engaged and more apt to come back for more.
Sharyn Sheldon, at Content Sparks, says that when people first come across you, they don't know who you are and they don't really care. What they do care about is getting whatever information they're looking for. And that's usually a solution to a problem.
If you can create an 'epic' piece of content that addresses one part of one of your target customer's biggest problems, then they're going to start to sit up and notice you. They'll see that you can help them, start exploring your other content, and maybe even provide their contact details to receive even more.
She recommends that you focus on finding out the biggest challenges your ideal client faces through surveys, forums, Facebook Groups, keyword research, bestsellers on Amazon – anywhere your market is currently talking and buying. Then pick one challenge that's related to the product or service you want to sell and create a value-packed piece of content that addresses it. If it's a big challenge, pick one small aspect of it that you can solve in a blog post or other content.
Step 5: Connect with People in Your Niche Market
The online world has become all about connecting with people. Charmin, from Affinity blog, says that, "as people, we are social beings and this is true in both online and offline environments. One of the easiest and most effective ways to connect with people in your niche market is through social media. Social media is also a great platform to promote your products and services, socialize your message, and demonstrate authority in your niche."
There are many ways to use social media. You can engage with prospective and existing clients, survey your target audience, or build a community of like-minded professionals. You can also connect with people by responding to their comments on your blog posts.
Where it sometimes gets tricky is knowing which social media channels attract your ideal customers. Whether you are looking at Facebook, LinkedIn, Twitter, Pinterest and so on, it is important to acknowledge the differences in user avatars. Remember your buyer persona and do your research. Once you find the ideal channel find different ways of connecting with them.
Step 6: Teach, Don't Sell
Brian Sutter, recently wrote a great article for Forbes magazine where he discussed the importance of teaching and educating as the key factors of content marketing success.
He says don't include a call to action that asks your readers to buy. While this may be contrary to what you have been told it may be just the thing that is turning away potential customers.
If we continue along the thinking of providing quality in every blog post that you write, then we need to consider the best way to do that. Remember, I mentioned earlier that you want to be solving problems and what better way to do that than from a teaching position.
Here's what Brian has to say…
Applying teach-versus-sell is actually pretty simple. Just don't ask people to buy anything. Don't ask them to call you. Don't ask them to sign up for a catalog or a mailing list. Don't ask them to request a demo.
You may put your logo and your website link somewhere on the content, but ideally you won't even mention what you do. Why not? Because you are in education mode now. You are attracting and building an audience, not trying to make a sale. Put on a scholar's cap if you have to, but put your business cards away.
You may include a call to action that prompts them to see another piece of content. If you are in the habit of regularly publishing useful content, you may ask them to sign up for an email newsletter, check out your YouTube channel, or to follow you on social media.
He concludes that you should create information your ideal customers or clients really, really want. Then let them call you.
Step 7: Integrate Your Content Marketing with Other Strategies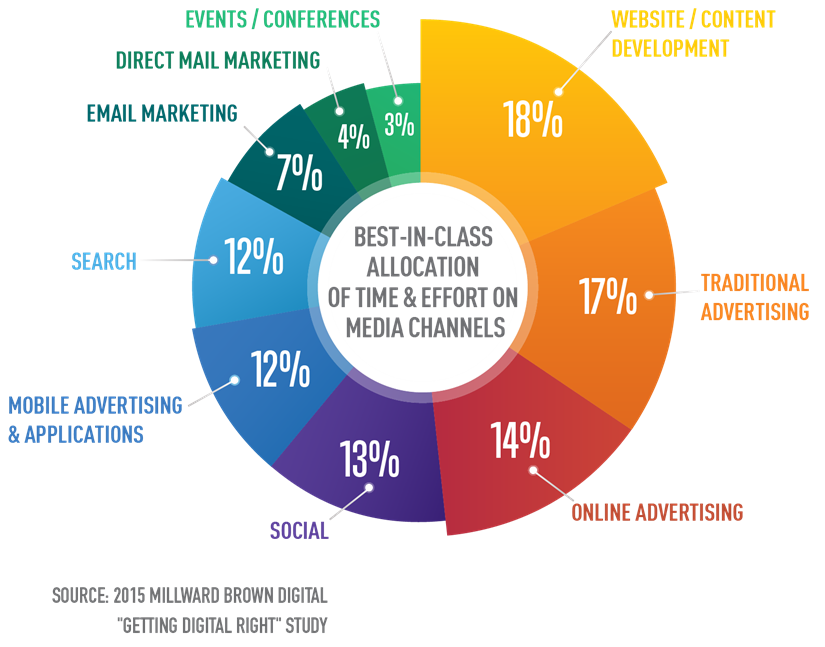 When it comes to growing your online business there are many elements involved. You need to consider SEO, social media, mobile, advertising, and so on. Content marketing becomes just one piece of a much larger pie. The image above comes from a recent study conducted by Millward Brown Digital that identifies the time and channels involved. Even though each business may be weighted differently this shows the various factors that should be added to your marketing mix.
While content marketing may be a significant element of your growth strategy as a small business, you probably have a few other ways of bringing in business. For example, if you are using search engine optimization, make sure that content on your website is properly tagged and includes the right keyword phrases. If you are launching a phone campaign, you could refer to content like articles or case studies that you have published while you are talking to prospects. If all of your marketing strategies are logically integrated, it will better contribute to your overall growth.
Step 8: Learn to Use Email Marketing the
RIGHT

Way

Despite all the naysayers, email marketing is still a highly effective and cost effective content marketing tactic to turn prospects into paying customers.

Email marketing is NOT spamming your prospects inbox with offers and telling them how great you are. It's about providing valuable information so that prospects see you as an expert who can solve their problem.

When prospects subscribe to your email list, it's an indication that they're interested in your offer but want more information to see if you can really deliver on your promise. Your job is to earn their trust and that's where an email autoresponder comes in.

An autoresponder is a sequence of email marketing messages that get sent to your subscribers automatically in the order and frequency you decide. The purpose of these messages is to establish your expertise by providing tidbits of helpful information that lead to quick wins towards what your prospect wants to achieve.

Prospective customers are much more likely to engage with promotional messages when you provide value upfront without asking for anything in return.
Step 9: Reward Loyal Customers
Did you know that it is a lot more expensive to acquire one new customer than to hold on to ones that you already have?
Kathi Kruse says that it actually "costs 5 to 8 times more to acquire a new customer than it does to keep an existing one."
She continues "It's difficult to foster and sustain customer loyalty in a world of untrustworthy messages coming at customers like a fire hose. Instead we should focus our attention (aka: content marketing strategies) on keeping customers for life."
She suggests that we should be putting our emphasis on rewarding repeat customers for their loyalty through various reward programs. And let's face it, don't we all love to be recognized in some way especially when we are giving away our hard earned dollars.
Let me tell you a little story…
About a year ago I joined a rewards program at my local grocery store that actually gives me money. Yes, real cash. They have partnered with a new bank and when you sign up for their rewards card you get a free no-fees bank account.
Then each time you swipe with your points card it turns the points into cash and deposits it in your bank account. I purposely never login to the account or check what is there. Then one day I decided to visit the bank to see what my balance was and could not believe I had accumulated $167.00. Maybe it seems like nothing, but I was super excited. I mean just for shopping in that one store I now have money saved without even thinking about it.
I'm sure we can all agree that brick-and-mortar businesses with powerful reward programs know what they are doing. But how does that translate into online businesses? Are there differences? What kind of rewards or incentives can you give?
Here are some online incentives:
1. Coupons – offer exclusive discounts to regular customers
2. Loyalty points program – either join one of the existing platforms like Incentive Solutions or build your own
3. Integrate local and online – by offering merchandise, event tickets, weekend getaways, etc.
4. Build partnerships – join forces with other businesses offering each other's products and services
5. VIP cards – allow members to purchase VIP cards that automatically give a higher discount rate at point-of-sale
Step 10: Use Videos to Generate Leads
John Rampton, at Inc.com, recently wrote an article on the importance of using video to grow your business.
Here's what he had to say…
In addition to creating quality content that helps spread the word about your company, you need to be using videos to generate inbound leads for your company. According to Sam Ovens, an internationally known digital marketing expert, a great strategy to generate leads while still educating the marketing place is to "teach a concept in a 5-10 minute video and then in the end ask the viewer to download an ebook or register for a webinar if they want to learn more."
Ovens goes on to say that "YouTube is the best place for video content because it lives on after the moment and can be found by others searching online years after it was created." According to the marketing pro, this platform is the second largest search engine in the world, and people are spending more time on it than they are in their inboxes. However, that doesn't mean that other platforms shouldn't be considered.
According to Ovens, SnapChat is up and coming. "Posting teaser content on SnapChat is a great strategy to get people's attention and sell them on the idea of going to another platform to consume larger pieces of content." Ovens goes on to say that this two-step style has become one of the best ways to utilize this fast-growing video platform.
If you haven't already been taking advantage of video marketing, there is no better time than the present to start. With the right voice, the right content and the right distribution, you can start using videos as a solid way to grow your business in 2016.
Final Thoughts
No doubt content marketing is the slice of the pie that will give you the biggest leap in rewards. Not only will it directly impact your bottom line, but it will help to build authority, increase traffic, gain more social followers, and so on.
So make sure that you are consistently providing value, writing quality content, teaching (especially using video), engaging through social media, and don't forget about rewarding loyal customers. Put all of these steps together and start growing your online business today.
Next Step:
Download

this article in a PDF