Top Reasons To Integrate SEO And Social Media With Content Marketing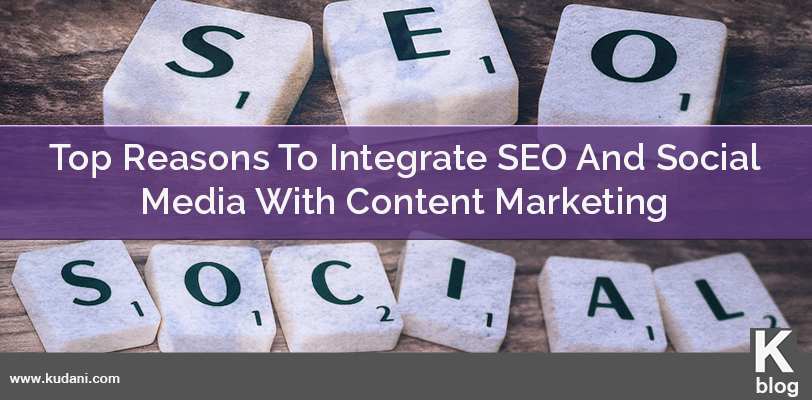 There's no doubt that one of the most commonly used and often abused terms in internet marketing is SEO or rather Search Engine Optimization. It's been there since the beginning of the internet and unfortunately has become  one of those popular terms that many people use, but not many understand.
So to help set the record straight, let's review the role that SEO plays in having your site ranked on the first page of Google or any of the popular search engines:
All major search engines such as Google, Bing and Yahoo have primary search results, where web pages and other content such as videos or local listings are shown and ranked based on what the search engine considers most relevant to users. Payment isn't involved, as it is with paid search ads.
Now while SEO plays an integral role, the new kid on the block really is social media. So much so that Google has clearly stated its importance as a ranking factor.
As we move forward in time from when SEO started then came social media. Does anyone remember Six Degrees, created in 1997 or Myspace?  Let's take a look at the role Social Marketing:
Social Marketing seeks to develop and integrate marketing concepts with other approaches to influence behaviours that benefit individuals and communities for the greater social good. Social Marketing practice is guided by ethical principles. It seeks to integrate research, best practice, theory, audience and partnership insight, to inform the delivery of competition sensitive and segmented social change programmes that are effective, efficient, equitable and sustainable.
Popular social media sites include Facebook, Twitter, LinkedIn, Google+ and Pinterest. Whereas social video sites include YouTube and Vimeo and photo sharing sites like Instagram. All these options are available for entrepreneurs and internet marketers to promote their content to a targeted audience. Social media when used effectively can have a huge impact on not only traffic, but lifelong customers that will continue to buy from you over and over again.
Content marketing is yet another element that we can add to this equation. It is the key ingredient that binds it all together. So let's examine what content marketing is and how when integrated with SEO and huge can make a world of difference in your business.
Content marketing is a strategic marketing approach focused on creating and distributing valuable, relevant, and consistent content to attract and retain a clearly-defined audience — and, ultimately, to drive profitable customer action.
As a matter of fact content marketing has been around for quite some time, but it's only now getting the recognition it deserves. It is the only form of marketing that is targeted to educate people and in doing so taps into trust, which is important in building customer relationships.
Having quality content on a website was one of the first SEO strategies that survived the numerous Google updates. Article marketing as well proved to be one of the most effective strategies with its use of content to drive quality traffic to any website. However, article marketing seems to have been pushed to the way side and while quality content is a key variable it alone is not enough to get you the rankings that you want.
Today building your business on a strong foundation includes the integration of all of these factors. SEO, social media and content marketing are the new equation to success. You must harness the power of all three to get the traffic, leads, visitors, and ultimately conversions that you want.
So how do you integrate these factors? As with every good recipe there are steps, a methodology if you will, that when replicated over and over again will get you results. There are certain principles and best practices that should be applied with many already considered as industry standards.
SEO and Content Marketing
To run a successful content marketing campaign, not only do you need to have quality content that is engaging, you need to include SEO – namely on-page SEO. Essentially, these two factors become one.
As mentioned earlier there are certain industry practices or standards that are being followed when creating any type of content for your website.
Let's take a look at the '12-Step On-Page SEO Checklist' created by Erik Devaney. I'll highlight the steps and point out the benefit of each one. Following these steps can help you focus on the areas that are important to Google and thus improving your site rankings.
Step 1: Crawl Your Site
This one is one of the most neglected steps by many website owners. Open an excel spreadsheet and list all the pages that the search engines have indexed. Along with the URL, you should also list the page title and the meta description.
Benefit: It will help you know where you stand, how well your pages are doing and how search engines are cataloging your content.
Step 2: Do an SEO Audit and Define Your Site Architecture
Do you find it easy to navigate through your website? Are the various pages and posts organized in a logical order? Have someone you know that is not familiar with your site go through it and ask them to explain what they liked and what they didn't. Also, if they got stuck or did not know where to go next. These are all important factors in your site architecture.
Benefit: It will help you understand how organized your website is. This is not only important for the search engines, but for the users. If there are issues you can be sure that they will leave your website quite fast with no intention of coming back
Step 3: Update URLs, Page Titles, and Meta Descriptions
Be critical and try to find different ways that you could improve any weak URL, page title or meta description.
Benefit: Think of the above factors as mini ads. That's what people searching for your product, service, or niche will see first. This is your opportunity to grab their attention. Remember you have just one chance to make a first impression. And make sure that the information is relevant.
Step 4: Establish a Value Proposition
Once we have some factors aligned it is important to understand the purpose of each and every post and page on your website. Essentially, you want to be striving for more than just ranking a keyword. Ask yourself what is the intention or reason your wrote a particular post.
Benefit: Understanding the purpose of your pages and posts can directly support your content marketing campaign. It speaks to consistency and can naturally translate to a marketable USP (unique selling proposition). As well, when you have a purpose you are in fact giving something of much greater value to your readers.
Step 5: Define Your Target Audience
If you are creating content without defining your target audience, you may be spinning your wheels and never getting the traffic or conversions you want. Know who your reader is. What do they want? What do they need? Catering to a stay at home mom is very different from a busy working woman. Don't try to please everyone.
Benefit: Choose your audience carefully. Create avatars, buyer personas. Once you've done that it becomes much easier to create content as you are essentially talking to that person or persona. In doing this your content will always be relevant to your audience and they will keep coming back for more.
Step 6: Plan New Page Titles
Page titles are important. Take the necessary time to get them right. Plan it out ahead of time. They need to be much more than just a keyword. Also, take a look at your old titles and maybe give them a little tweak as well.
Benefit: Titles or headlines are the first thing that people see and they are often the clickable factor. Create curiosity driven post tiles and informative page titles.
Step 7: Add Your New Meta Description
Same as above, add relevant information. Be enticing and consistent.
Benefit: You make a great impression from the first point of contact. Relevance is key.
Step 8: Track Keywords and Topics for Each Page
Keywords help you not only rank in Google, but connect directly with your target audience. So choose them wisely and make sure they are in your page title, meta description and content of the post.
Benefit: If you are using the right keywords you will rank and ultimately attract the types of visitors you want to your website. Those who are looking for exactly what you are offering.
Step 9: Review and Edit Page Content as Needed
If your post were written a while back there's probably room for improvement. For example, how long is your article? Nowadays the most enticing posts need to be topic specific and have at least one thousand words or more.
Benefit: Establish your authority. Your readers will keep coming to your website for more content and the search engines will love you for that as your readers will be spending more time on your site.
Step 10: Incorporate Visual Content
Don't forget to spice up your website with visual treats. Include eye catching, beautiful, and relevant pictures that tell a story. Add a video or infographic. Use variety when it comes to visuals and respect white space.
Benefit: Visually appealing content makes for a more enjoyable user experience. It also breaks up your content making it easier to get through.
Hint: We will leverage those visuals in social sites later to gain even more exposure for our site and content.
Step 11: Link It Up
Help your users and search engine spiders to find related  posts on your website.
Benefits: By interlinking related posts you help users find information faster and help search engines understand what your site is about.
Step 12: Optimize for Conversions
Every post and page on your website should include a CTA or Call To Action. Offer some kind of digitally delivered content in the form of ebook, podcast or video.
Benefit: Increase the number of leads and subscribers and grow your list.
Learn more about these steps by visiting HubSpot or watching this YouTube video.
Here's another great source:
The Power of Three: Content Marketing + SEO + Social Media
In this 30-minute webcast you will learn how to:
Leverage the combined power of these three digital marketing tactics for maximum positive impact across your entire web presence.
Measure and report on the number of backlinks, social signals, visitors, and conversions generated by your optimized content marketing campaign.
Understand the impact one piece of content (e.g. blog post, press release, white paper, video, etc.) can have on your web presence and organic search rankings.
Social Media And Content Marketing
Now here's where it gets exciting. A few years back, the only option available to marketers was  to promote their websites and products by staying well positioned on the first page of the search engines by means of SEO or paying for a better position through ad campaigns. Both options where costly.
However, a well managed content marketing campaign will leverage the costs of running the campaign by maximizing the exposure of the content created and promoted with social media.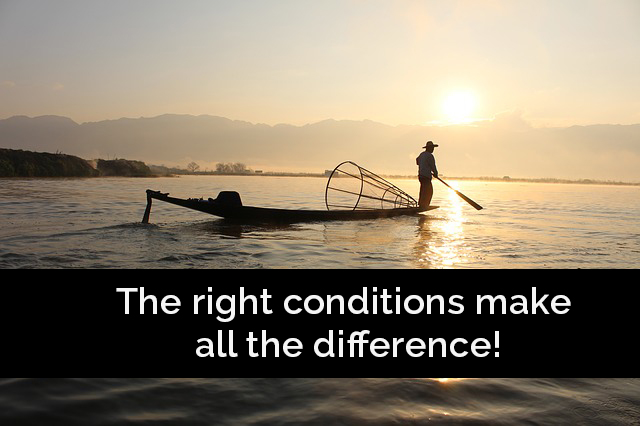 Any experienced fisherman will know exactly where to find the fish, what time of day, under what conditions and so on. Social media sites provide just that. Your very own lake, but you do need  to know what you are doing – just like the fisherman.
According to Heidi Cohen, "Social media is where your content marketing connects with your audience, including prospects, customers, influencers, and others. Through these relationships you as a marketer can acquire a deeper understanding of your target audience and engage with them directly".
So let's explore some effective strategies in merging social media and content marketing.
The first thing to consider is selecting the right social media sites for the right content.
Brett Relander, wrote in Entrepreneur.com, that you need to "Optimize content for specific social media networks taking the time to ensure that the content you publish on each platform is optimized for that specific channel will give you a far greater chance to connect with the audiences most likely to frequent that platform".
Make the most out of your images by sharing them on sites like Twitter.  Buffer found that sharing your images on Twitter increased retweets by 150%.
Posting at the right time is also important. Evan LePage says that, "Posting at optimal times can help give your content an edge. While there's no specific "best time" to post to social networks, certain times have proven to bring more engagement to content".
Expand your audience and make your blog mobile-friendly. Mobile  media time is now greater than desktop and other media. Smart Insights reports that mobile digital media time in the US is now significantly higher at 51% compared to desktop (42%).
This means that more and more users are using their mobile phones to connect to their favorite social sites.
In fact, 50% of Facebook users visit the site on their mobile phones. And they spend more time on Facebook than on any other mobile site, too. In the U.S., as is the case in many other countries, Facebook time spent is almost twice as much as Google, for instance.
Provide the right format and your followers will spend more time on your social site.
Be a problem solver. That's one of the best practices you can put to use when creating your content. If you have ever felt as though you have run out of ideas just think about what kinds of problems your product or service is solving, then write your content and promote it on social media. Your audience will be grateful.
Frank Marquardt says, "give your audience the tools to help themselves, and make sure your social media team has the right information to share. By making things easier for others, we build trust. Trust strengthens our relationship…".
Take the time to understand your social media audience and then match your content directly to them. Be specific. Be clear. Be relevant.
Social media marketing functions best when audience dictates channel and message. Today, though, much of our marketing efforts are backwards. We think a channel such as Facebook will deliver an audience, but a channel merely delivers a message to an audience we have already built. Your audience is a critical asset, and social media can help you build an invested proprietary audience—people who give you permission to market to them.
In Closing
Every salesman knows that in order to sell a product you need to directly match the offer to the demand. In the world of content marketing this has never been easier. Social media provides the demand and you the content that leads to the offer – once it's educated and solved their problem of course. Therefore, make sure that you take the time to listen to listen to what your audience needs and then start crafting your offer to that. Now add in your SEO and you have a winning formula. It may take a bit of practice to make it work, but once you get the hang of it you'll see the results of your efforts.