How to Use Keywords Properly in Content Marketing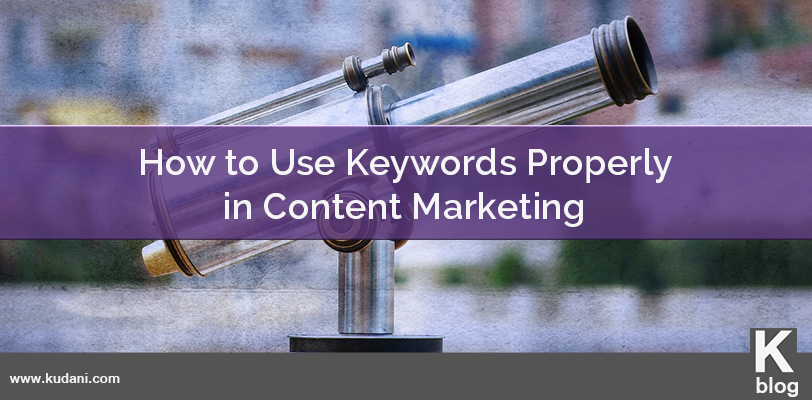 Are you using keywords? If so, have you updated your skills or are you still using the same old tactics from before Hummingbird?
Over the past few years keywords have received a bad rap. Some will tell you not to use them as Google will penalize you for over usage. And while this point certainly is true your keyword density is only one factor of the equation.
In fact, if you are not using keywords you are missing out on a huge opportunity.
But first let's clear up a few things.
Most people think that keywords are strictly for search engine optimization. They believe that it is a way to get higher rankings and that's it. While Google definitely plays a huge role in this you should also consider using them to attract highly targeted visitors, namely perspective clients, to your sites.
There are many things to consider. If you are on the fence about using keywords in today's market, here are some things to consider from the Brand Builder:
8 Ways Keywords Help Your Business
Keywords are the "building blocks" of your brand message (online & offline).
Keywords improve your Search Engine Optimization (SEO).
Keywords help your audience find you.
Keywords help you better define your target audience.
Keywords are specific to the various products and services your business offers.
Keywords can be used in personal business communications too.
Keywords help on-line and off-line contacts understand  your brand.
Keywords help you interact with your target audience.
Now let's take a look at the specifics of what you need to do. In this article, I will highlight the main areas where you should use keywords and how to use them.
Search Engine Optimization
Is SEO dead?
Certainly, gone are the days of the millionaire microsites. No longer can you simply identify a neglected niche, create a site that is high in keyword density, drive traffic from it to your money maker, and rinse and repeat the whole thing. Google's SEO has changed and therefore so should your strategy.
With updates like Panda and Hummingbird gaming the system has become near to impossible. The bigger question here however is why would you want to game the system anyway? If you are legitimately trying to build a business of followers and lifelong customers then the goal needs to be to use SEO as a search tool – one that let's your perspective clients find you easily.
Here are 3 important SEO factors to consider from Kissmetrics:
1. Authority Over SEO
PageRank isn't dead—but it went from being the top determinant for your ranking to one of over 200 metrics used by Hummingbird to determine your ranking. Now there are tons of metrics that, taken together, help Google determine your page authority. They weigh inbound links, outbound links, social media shares, content quality, site design, ease of use, etc.
2. Keyword Placement Over Frequency
When it comes to keyword placement it is still important that your longtail keyword shows up in the page title, URL, sub-headers, image descriptions, meta descriptions, etc. In other words, keyword placement is still important, but frequency is not. You definitely don't need to repeat a keyword at least 7 times in the body copy anymore. This is a ploy that no longer works.
3. Semantic Search Over Long And Short-Tail Keywords
We all know that long tail keywords—keyword phrases longer than three words—are better than short tail keywords because they target more specific search queries and help target your niche better. However, today, Google uses something called semantic search to tease out the meaning behind your words.
Techopedia defines semantic search as, "a data searching technique in which a search query aims to not only find keywords, but to determine the intent and contextual meaning of the words a person is using for search."
UTM Parameter Tracking
A UTM code is a simple code that you can attach to a custom URL in order to track a source, medium, and campaign name. They tell you where searchers came from as well as what campaign directed them to you.
According to Moz, "if you are already using UTM parameters to track your links, you can utilize the optional UTM_term (used mostly by AdWords advertisers) to track your keyword usage."
Here's a great example from Kristi Hines on how to use UTM parameter tracking:
She says, if I create a Facebook ad for my business, I could use the following to note that the ad was targeted toward a specific audience, such as content managers, and the ad used the phrase "freelance writer."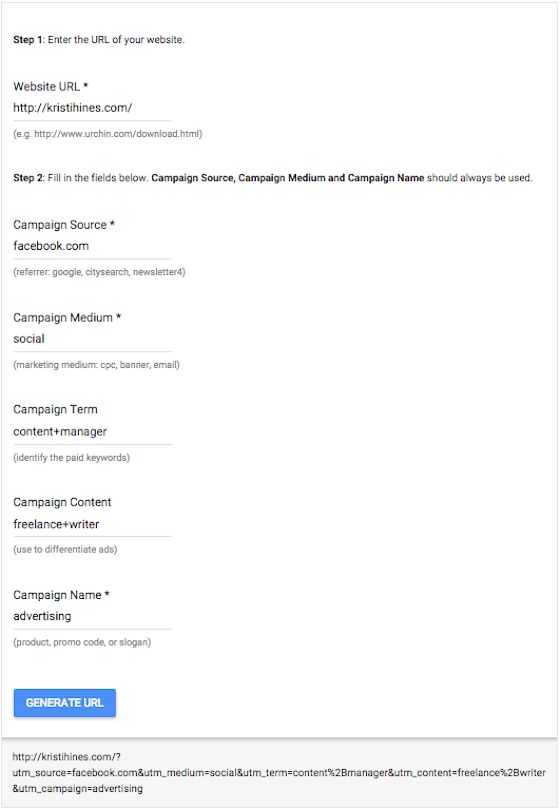 She continues that she could then create variations of the ad to content managers, by using different phrases, such as "blog content developer," "blogger for hire," and other similar terms. Eventually, using Google Analytics to determine which keyword phrase attracted the most clicks from these specific target audiences. You could expand this to tracking your advertising campaigns across Twitter, LinkedIn, Pinterest, and other networks as well.
UTM codes are easy to use and provide highly valuable information. Use Google's URL builder to create any tracking link you want.
Guest Posting and Influencer Marketing
Guest posting with high quality content can be extremely beneficial. In fact, if you follow Neil Patel he seems to do more writing on others blogs than his own. Not only will this drive traffic directly to your own blog, but it will position you as an authority in your respective niche.
A great way to find guest posting opportunities is to use tools like Kudani. Simply add the keyword that you want to write about in the Discover engine. Set your search parameters and examine the returned articles, social shares, etc.
My preference is to search articles written in the last 90 days. Plus, I always select 'Total Shares' so that I can see social sharing across all of the main sites. What's interesting about this is that you will see that some articles do incredibly well on Facebook but not Twitter, or great on Twitter and Linkedin but not Facebook.
By selecting all of them I can see where the main emphasis is and use this in determining my own strategy.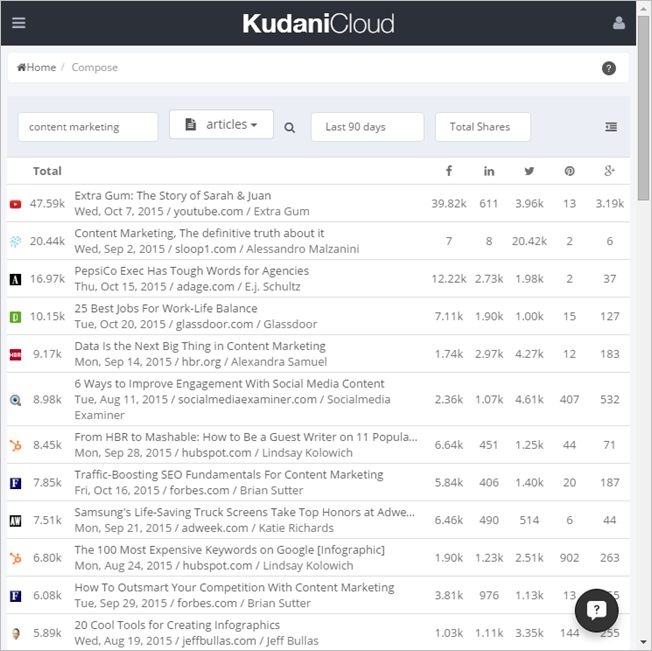 Kristi Hines says that you should decide beforehand what your guest blogging goals are. This will help you to determine the best blogs to submit to. She says there are three main goals, which are as follows:
Positioning yourself as an authority and well-known name in the industry.
Getting exposure (traffic) back to your website.
Building backlinks to your website.
Finding guest posting opportunities is your first task. As I mentioned earlier, Kudani is a great tool for this. Once you have entered your keyword examine the social shares, click on over to the site and start to examine it. Some of the things you want to consider are the type of audience that may be interested in the content. While the site may be related to your niche is their customer avatar the same as yours?
You also want to take a look at the frequency of posting, the types of content they offer, is there regular social media activity, etc. Once you've determined that this is a good choice see if they have a link somewhere with guest posting guidelines. If not, try sending them a message through the contact page or an email if it's available. Always, include a sample of your work or re-direct them to your blog. This allows the decision maker to assess the type of content that you write to determine if they think it is suitable for their readers.
There are some basic guidelines that you will want to follow:
Read the guidelines
Personalize your email
Tell them who you are
Why should you be a guest blogger
Make sure to do your homework. The more prepared you are the greater the probability of getting a positive response.
Keywords and Social Media
Not all keywords are created equal. We need to be able to determine the medium, campaign, intent, and so on. What works well on your blog may not do the trick on social media. There are differences and it is important that you understand them.
Amanda DiSilvestro, from Kissmetrics, says that "it's important to realize that the keywords you decide to use will be different for different social media accounts. It is not a 'one keyword fits all' operation."
She recommends these factors to find the right keywords for each of your social media sites:
Lay Terms
Desired Association
Competition Check
SEO Keyword Research
Prepare for Different Social Media Sites
Using  Keywords on Facebook
Our main purpose when posting to Facebook is to awaken our readers and followers emotions by using the most appropriate keywords to achieve the highest level of engagement.
What you say and the way you say it on your social media posts, especially on Facebook matters and can make a radical difference when running a campaign to promote your website, blog posts or products.
The use of language has become highly pivotal. You need to be direct, yet inviting, without being commercially driven.
Here are some helpful insights from Social Media Examiner:
Buddy Media found that action keywords like "post," "comment," "take," "submit," "like" or "tell us" are the most effective
On the other hand, if you're running a contest, sweepstakes or other promotional offer, fans don't respond well to direct or aggressive language.
Softer-sell keywords such as "winner," "win," "winning" and "events" will make fans excited rather than feeling like they're being sold to.
Aggressive promotional keywords like "contest," "promotion," "sweepstakes" and "coupon" will turn them off.
Let's examine this concept even further.
David Cohen, from Social Times, reported that "Margarita Noriega, director of social media at Fusion, decided to see if the inclusion of several keywords in a status update would propel it to the top of her friends' News Feeds, and it worked.
Here's what she did.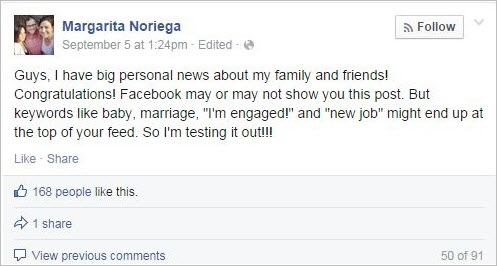 Business Insider reported that Noriega posted the following status update, which had tallied 168 likes at the time of this post, and which The Daily Mail head of social media Taylor Lorenz reported had been atop her News Feed for four days.
Try using some of the suggested keywords and see if there are any changes to your Facebook posts.
Using  Keywords on Pinterest
The best way to start searching for relevant keywords on Pinterest is to use their built in search engine. This will allow you to uncover keywords that people are actually searching for.
Start by typing in any keyword you want in the search field. Here you can use a broad term. Don't worry about being highly targeted as the search engine will help you fine tune your search.
For example, try typing in the word "paleo". The first thing you will see is a list of keyword phrases that are commonly searched, much like how Google delivers suggested keywords.
Select one or just keep the initial word you typed. Now wait a few seconds.
You will then see a horizontal bar with tons of niche specific suggestions. Scroll through them to find the ones of interest. Remember, these are the most popular terms that people are searching for.
Once you've refined your search take a look at the results. See what you can do to add to the page of pins. And now add those keywords to your pin descriptions.
Vincent Ng says that, "Adding keywords can also be helpful in Google for extremely niched search terms. At the time of this writing, I typed in the search term "Day 8 of 31 Days to a Better Pinterest Page." And this was the fourth result shown to me on the first page of Google search results. It's a pin that I had pinned onto a group board."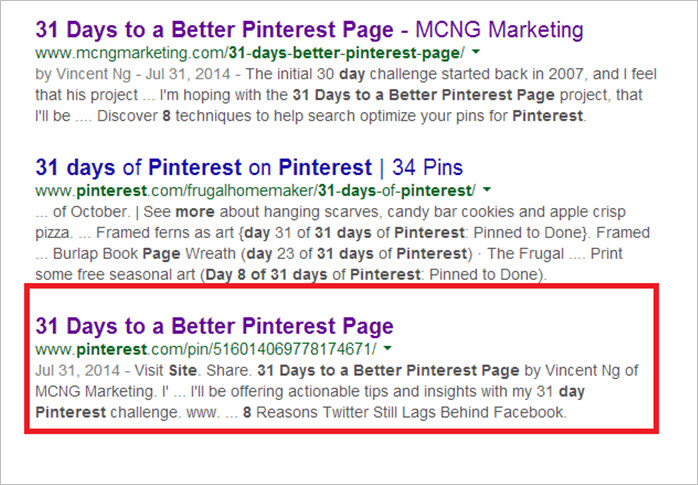 Using  Keywords on Twitter
In Twitter you can target keywords directly in your tweets or your hashtags.
According to their keyword guidelines, Twitter allows users to connect with other users based on words and phrases they've recently Tweeted or searched for. Doing this allows you to reach your target audience when your business is most relevant to them."
Here are some guidelines if you are interested in Twitter ads. There are two types of keyword targeting:
1. Search
The phrases that people search for on Twitter are indicators of what's top of mind for them in that moment. Keyword targeting enables you to target your Tweets so that they show up when people are searching for topics related to your business. This type of targeting is particularly effective during cultural, seasonal or industry events that relate to your business.
For example, a running shoe company might want to target users searching for Tweets about marathons. To do so, they could target general keywords, such as marathon, training, and running, as well as event-themed keywords, such as Boston Marathon, London Marathon, and Patagonian International Marathon.
2. Timeline
Tweets send important signals about what users are experiencing in the moment – their thoughts, feelings, wants and needs. With keyword targeting in timeline, you can act on these signals by targeting your Tweets to users based on something they've Tweeted.
For example, a travel company could reach people who have recently Tweeted about planning a trip by targeting keywords and phrases such as planning summer trip, beach vacation, or travel tips.
Offline Marketing
Quite often we think about keywords as being relevant only to online marketing, when in fact they are just as important to both.
Longtail keyword phrases rank more easily and can be highly targeted for your business.
For example, let's consider a local dentist in Toronto, Canada. If you are trying to target the keyword "dentists" it will be very hard for your patients to find you. However, if you use the longtail keyword "dentists in Toronto" the search is more specific. The key is to think about the phrases that your clients may use.
Solomon Thimothy, the lead strategist at Clickx, says that "while you obviously can't optimize offline content such as brochures, you should use them to further individualize and secure the identity of your brand…using keywords offline…can vastly improve your overall lead conversion."
Here are his recommendations:
Consider ways you can use keywords in offline content to further simplify the explanation of what your company does, without requiring them to view your website to find out.
Think about how a brochure or other grab-n'-go literature can immediately appeal to prospective customers with a simple keyword phrase describing your services in the title.
Other advertising materials such as magnetic car signs can include keyword phrases in a list of services to quickly give people an idea about what your company does, with contact information that people can save for later.
If you are using both offline and online campaigns then use the same keywords for both. This allows you to have one unified message that ultimately speaks to your brand. The consistency of language will strengthen your overall message and help with both rankings and building customer relationships.
Conclusion
Using keywords is helpful for both search engine optimization, as well as getting your content in front of a targeted audience. Moreover, there are numerous direct benefits to your business.
Take time to learn how to properly use your keywords for SEO to avoid Google penalties like Hummingbird. Once you understand what Google wants you can easily incorporate these variables to your on-page optimization.
Don't forget to use UTM parameter tracking to see exactly where searchers are coming from and include guest posting and influencer marketing in your campaigns. And make sure to incorporate the same keywords in both your online and offline marketing.
Lastly, use keywords in your social media but remember that they are not equal. What works for one medium may not for another. Test various campaigns to find the ones that work best for your niche and target audience.
Got any great keyword lessons or strategies? Share below in the comments so we can all benefit.