How to Effortlessly Boost Your Readership With Improved Editorial Calendar Techniques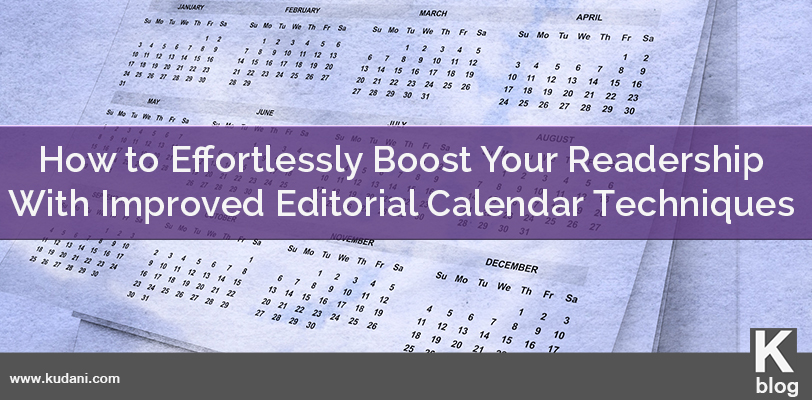 Are you a planner? Have you started using an editorial calendar?
Most people are used to planning things in one form or another, in fact the majority of businesses see planning as an essential component of their business success. However, the same cannot be said for planning content. Still it seems that not everyone is taking advantage of using an editorial calendar.
An editorial calendar lets you plan different types of content, set up a posting frequency that ensures you are posting regularly and on time, plus allows you to manage the time needed for creating the content as well.
One of the biggest benefits of using an editorial calendar is that it serves as a roadmap guiding you every step of the way. No longer do you have to spend time wondering what you will write about, what type of content to create, or when to post it. When you use an editorial calendar this is all laid out for you.
Creating an editorial calendar for your blog not only helps reduce the stress of coming up with a fresh idea on the spot, but it helps you think about your blogging efforts from a big picture standpoint.
Planning and scheduling blog content is the most common use of an editorial calendar. However, there are other mediums that benefit as well which will be presented in this article. But let's start with examining the advantages of the calendar itself.
Benefits of Using an Editorial Calendar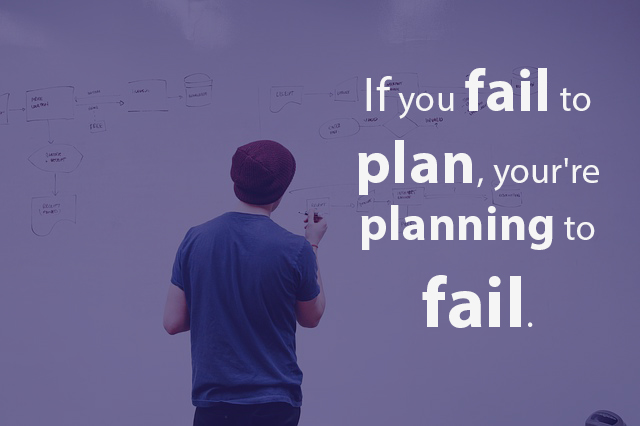 Flying by the seat of your pants or winging it is never a good strategy when you are trying to build a business. So whether you are not sure what to write about, what type of content to produce, not sure how content planning can help, rest assured  an editorial calendar will put you in the driver's seat. It will not only help to improve your content creation, but give you timelines, goals, and metrics that will allow you to measure your ROI.
Here are three of the benefits explained by Kevan Lee:
 Take a bird's-eye view of your content and fill in any gaps
A content calendar gives you new perspective both in the way you think about your content and in the way you see your content. You get to examine your updates, sharing, and blog posts from  a 10,000-foot view, where you can't help but notice the big picture. It's easy to get lost in details when you're in the heads-down process of content creation, so having a larger visioning session to create the calendar plus taking regular peeks at the calendar once it's made can help bring your work into context.
Plan and organize around key events, dates, and launches
Have you ever had an event sneak up on you? Kevan explains that in these types of hurried situations to create content for a specific event he wishes he had written things down in a calendar beforehand. When you plan your content well in advance, you can prep and organize around the key dates that could influence your content. Kevan continues that big brands plan out far ahead to cover the recurring events and important dates that seem to crop up at the same time every year.
Ensure plenty of prep time to get content ready to publish
Kevan says that working ahead on blog posts is his guilty pleasure. Calendars help him see what's coming up so he can carve out time in his schedule to get ahead. Pam Moore calls this the drumbeat approach to content development. Jamie Griffiths, writing at Convince and Convert, describes the effect this has on consistency and expertise.
In general the further ahead you plan your digital content publishing the better placed you are to produce a consistent flow of content that builds your brand's perceived expertise in your chosen subject areas.
Getting Started
When you are first getting started you need to begin by gathering some relevant information. This will help you to focus and fine tune your plan. The best way to do this is by answering some key questions.
Here's a great list from Jodi Harris to get you going:
Who are you creating content for? Keeping your target audience top of mind as you create your calendar will be essential for planning how to deliver on its needs through your content marketing.
Why you are creating content? Are you looking to generate leads? Increase your thought leadership? Drive attendance to your events? Your content marketing mission and goals will impact what you publish, where you publish, and how often, as well as how your team prioritizes, organizes, and categorizes/tags its content creation efforts.
What resources do you have at your disposal? Whether you have a dedicated in-house team of writers and videographers, a stable of industry pros looking to share their insight, or just a handful of reluctant execs who will need some serious content creation hand-holding, the formats, frequency, and overall workflow you track in your calendar will likely depend on who is writing and where their expertise lies.
How can you stand out? What unmet industry needs can be addressed with the content you create? What gaps exist in your current content creation efforts – or the efforts of your competitors? What industry events happen throughout the year to which you can tie your content for added exposure potential? Knowing where you can play a lead role in owning the audience's attention will help you fill your editorial calendar with impactful content that helps you meet your business goals.
Creating an Editorial Calendar for Social Media
Most people when they think about an editorial calendar they immediately think about planning and scheduling their blog posts and often forgetting about the importance of social media. Planning out your social media content is just as important.
Olsy Sorokina, at Hootsuite, recently wrote about the top five reason why a social media calendar is important for your business.
Here is her top 5 list:
Posting content that performs poorly
The best way to see what kind of content to plan for the future is to perform routine checks on what kind of content is well-liked by your audience, and make regular adjustments based on these insights. Set up regular check-up times to record the important metrics on your content. Use this information to adjust your publishing schedule, as well as the type of content you post and the social media platform you use to promote this content.
Missing important dates
Populate your content calendar with all the dates important to your business. Set up reminders at a reasonable interval to put the date on your radar in advance, in order to adjust your writing and research time to the deadline.
Overwhelming your content writers
Use the content calendar as an assignment calendar for your copywriters. As soon as you know the topics you want to cover in your next few posts, start assigning them to writers based on their schedule, strengths and level of expertise. This will give them time to do in-depth research and think of an engaging way to frame the issue at hand, as well as ensure you have the most capable writer working on that piece of content.
Spamming one social media network and neglecting another
For each piece of content planned in your calendar, assign the social media channels you want to use to promote it. Add social media network icons underneath the content title and author name. If you see that one icon comes up too much, and another has not shown up in a while, it may be a sign that you need to rethink your social media promotion strategy.
Not doing your research
If you have the publish date set and the writer assigned in advance, this allows the copywriter to evaluate their expertise on the subject matter. If there is more research to be done, or another writer is better suited to support on the task, a content calendar allows your brand to do this without disrupting the deadlines.
When and What to Post on Social Media
This is one of the most common questions I get asked. When should I post? What kind of content? Should I only post my own blog posts?
My goal here is to simplify this so that you can get on the right track quickly.
First of all, social media is all about sharing and this means sharing not only your content but others content as well. The goal is to provide quality content to your followers. Too much self promotion will actually turn away visitors. This means the less selling you do the better, however, it does not mean NO selling or self promotion it just needs to be balanced out.
I like to work with a ratio of 1 to 7. One of my pieces of content (now this can be self promotion meaning taking the visitor to a lead page or it can be me just sharing a blog post I have written) to every 7 posts that I share written by others.
Now we need to take this a step further. What should I share? Blog posts, promotions, quotes, etc.
Ryan Pinkham says, "Don't jam-pack your schedule with promotional posts. Remember that your goal on social media should be to grow relationships and build an audience for your business. It's not to turn every new fan, follower, and connection into a paying customer. Try to limit your promotional content to just 20 percent of your weekly posts, with the other 80 percent focused on keeping your audience engaged and informed."
Here are some suggestions he makes for the types of content that work well on social media: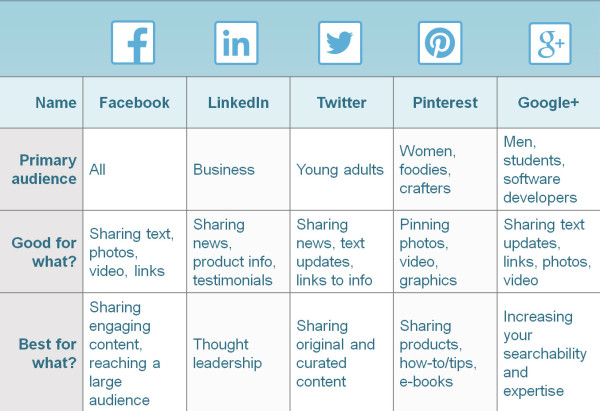 Image Source: Constant Contact
While these are great suggestions don't forget to test. Some niches perform better with certain types of content, while for others it may not work at all. So use this as a guideline for setting up tests rather than a schedule for type of content to post.
Posting times will also vary based on niche and social network. Again for this reason you want to do some testing to figure out when your followers are around. What time of day are they engaged, commenting, reading, etc. And don't forget to examine how often you post as well.
"In addition to testing different posting frequencies, you can also test different days of the week, and different times of the day. For some businesses, the majority of social media activity will take place during the Monday – Friday, 9 a.m. – 5 p.m. work week. Other businesses may see more engagement on weekends, early morning, or later at night. It all depends on your audience, and when you think people are most likely to see your posts" says Ryan Pinkham.
Here's a great infographic that shows the best times to post on the different social networks.
Using an Editorial Calendar for Email Marketing
Email marketing is yet another avenue that requires publishing content regularly. Certainly there are some marketers that have pre-done content setup with autoresponders, but there is still a need for fresh timely content. This can be in the form of teaching something, introducing a product, promoting an affiliate offer, and so on.
The best way to prevent mediocre email marketing is to get organized. When you're having difficulty managing all the moving parts of your email campaigns, it's hard to be proactive and strategic about what you send, which ultimately means your campaigns will be far less fruitful in terms of generating opens, clicks, and qualified leads.
Just like with other mediums you should plan and schedule to ensure that you are regularly mailing your list. Planning a week or two in advance allows you to not only know what type of content needs to be published, but as well to block off the time needed to research and create the content.
If you are working with a bigger team this is especially helpful as it keeps everyone organized. Try adding a company policy to ensure that standardized guidelines are put in place so that everyone is following the same process.
John Jantsch, from Duct Tape Marketing, says that, "Recently, we added email to the editorial calendar and this seemingly simple integration has made a significant impact in our content focus. We now have a better picture of what we are putting out in all channels and have a better view of who is receiving what, why and when. This better picture of content is a great tool whether you are the only one producing content or need to collaborate with a team and outside producers."
He continues to highlight the benefits of using an editorial calendar approach to email:
Keep much better track of who is getting what
Segment our lists with more precision
Plug gaps in important core topics
Uncover new ways to use existing content
Better monitor how much email we are sending
Create more opportunities to use content to build our list
Conclusion
There are numerous benefits to planning and scheduling content. Using an editorial calendar lets you visually see where there may be gaps, organize launches and schedule in important dates, build in time for content creation, as well as seeing the big picture of your content strategy.
When you first begin you should answer a series of questions that will allow you to stay focused and laser targeted on your audience. Know your customer personas, the types of content they prefer, explore different forms of content to find out what has the greatest ROI.
Use your editorial calendar for more than just your blog. Social media content and email marketing are two mediums that benefit as well from a well thought out plan, strategy, and schedule.
KudaniCloud has a built in editorial calendar that lets you plan out all of your content for your entire team. Add tasks that are instantly emailed to team members, drag and drop suggested content blocks until you are happy with the overall plan and layout, and visually see everything that has been published. Click here to learn more about the benefits of using KudaniCloud.
Infographic Courtesy of: Quick Sprout