Content Ideas Your Audience Will Love
Having a tough time generating content ideas? Struggling with what to write about?
This is a common problem that most every writer faces at some point and time. I know I certainly do.
Just think of the challenge you are presented with each time you have to write an article.
Not only do you have to produce high quality content, volumes of it, but it also has to be interesting, useful, and keep your reader engaged. After all, if they don't love what you are writing about what's the incentive to stick around.
So where do you start?
With your audience.
How well do you know your readers? I mean really. Do you know the kinds of people that are coming to your site. Who are they? What are they looking for? What kind of problems are they trying to solve?
I recently read an article by Oliver Bramwell where he discussed the top three tips for creating content that win over your customers.
He summarized it by saying, "it's all about love. Beneath all the modern marketing tools, tactics and jargon, it really comes down to basic human emotion. With empathy, care, and careful consideration, you can work out how to really serve your customers, and they will love you for it".
Customer Winning Formula

Tip 1: Know your customers

Tip 2: Create personas

Tip 3: Send your personas on a customer journey (and identify their 'pain points' along the way)

Read Oliver's full article here.
Simply putting in place this formula will generate tons of ideas naturally. As you get to know your customers problems and pain points you'll be able to understand exactly what they want.
Sometimes it's as simple as putting a questionnaire on your site, maybe sending out a survey email, or asking some specific questions in a comments thread.
Find a way to communicate and engage with your followers so that you can get to know them. Once you do that you are more focused, which will allow for your ideas to be more targeted.
Let's take a look at some specific ideas. Use this list as a blueprint or guideline. It covers a month's worth of ideas so you can literally go through the list and then start all over again. This way you will know exactly what needs to be done for your next article.
30 Content Ideas to Get You Inspired
1. Compile a comprehensive list of industry statistics and research. These types of posts are great for getting inbound links.
2. Write a top 100+ post on a relevant topic in your niche. Or any list post. Top 10, 25, 50, and so on.
3. Write a blog post responding to a controversial article or video for a relevant topic.
4. Visit niche related Facebook pages and see what types of things are being discussed. Create a post from the most engaging conversation thread. Answer questions, share ideas, and so on.
5. Be the first to share some news. Read through relevant press releases and write a post shortly after something is published.
6. Do a Quora search. Type in a topic your readers are interested in and start reading through the questions and answers.
7. Read the questions and conversation in the comments section of industry related publications.
8. Experiment results – Run an experiment or try something new and talk about the results.
9. Interview an expert – Offer to interview experts and post the interview on your blog.
10. Write a book review on a new release that is relevant to your niche.
11. Create a list of inspirational and motivational quotes.
12. Use the 'Discover' tool in KudaniCloud to instantly access tons of trending articles in your niche. Review the social activity and curate from those with the highest numbers.
13. Tell a personal story of a problem you had and how you solved it.
14. How-to and DIY articles. Not only are they super popular, but quite often go viral.
15. Thought leadership – Sharing your insights are one of the best ways to establish yourself and your business as a thought leader.
16. Create a glossary of terms. Not only is it searchable, but it provides valuable information to your readers.
17. Write a beginner's guide blog post about some aspect of your niche. These are hugely popular and can help establish you as an authority in your field.
18. Spend five minutes on Pinterest and you will be overloaded with ideas. Make sure to mark these down somewhere so you can come back to them easily. Try the swipe file suggestion I've added later in the article.
19. Add an FAQ section to your site and answer your site visitors' questions before they even ask them. Win-win!
20. Make a 'hack' post. Give insider quick tips on how to solve common issues your niche faces.
21. Ask your followers what they would like you to write about.
22. Create a pros and cons list.
23. Construct a historical timeline about a relevant top of interest.
24. Write a step-by-step tutorial or user guide for a favourite mobile app or software.
25. Crowdsource with social media. Tweet or post a question to Facebook and use your answers as the premise for your post.
26. Invite a guest blogger to write an article. Not only will it be great content for your readers, but you'll also get the added benefit of their followers.
27. Watch a Ted Talk, summarize it and give your thoughts and views to your audience.
28. Make a future prediction. Demonstrate that knowledge by becoming a "futurist for a day," making bold predictions about the future of your industry.
29. Reuse, re-purpose, and recycle old content. Old webinars, podcasts, case studies, etc. can be great inspiration for new ideas. Just spend a bit of time going through niche related folders on your computer.
30. Scroll through the list of headlines in Headlinr to find content ideas in less than a minute.
Once you start generating all these great ideas you'll need to be able to store them somewhere for easy access.
Here's what Kevan Lee at BufferApp suggests.
Keep a Swipe File
When an idea pops into your head, jot it down. When an image grabs you on a blog post, clip it and save it. All of these whims and breadcrumbs can be just the thing you need to put together a complete blog post later on.
We collect our ideas on Trello and review our ideas list on a weekly basis to see what strikes us.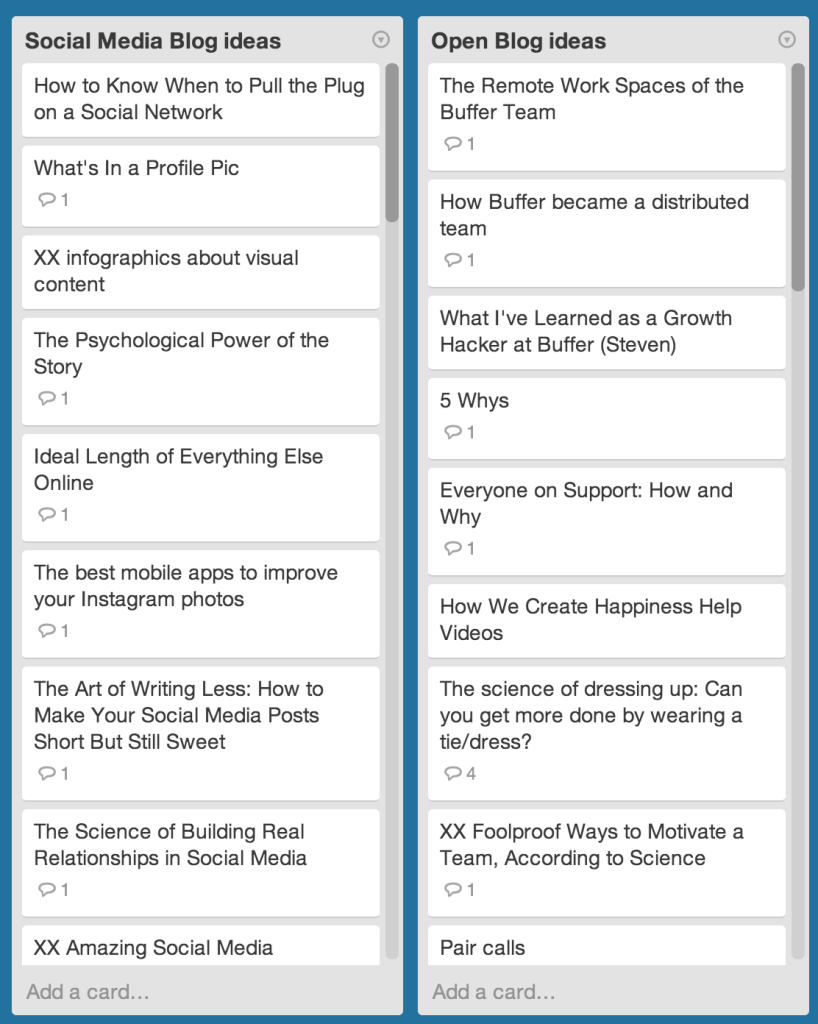 You can also use a tool like Evernote, which comes with a bookmarklet and browser extension for easy clipping and saving. Other tools that might work include Pinterest, Stache, and Octobox.
And if you come across a great article or feed use Kudani Snipper and save it for using later right inside of the application.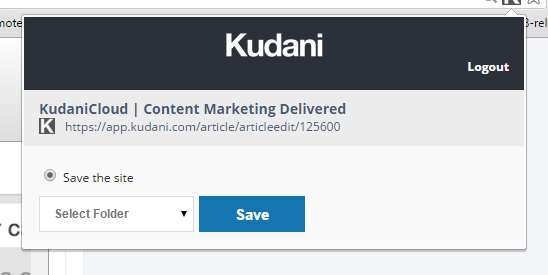 When you are thinking about content ideas you also have to take into consideration the delivery vehicle. Is it image or text based? Or video?
Here's a list of the most common content types:
Content Types
Articles/Blog Posts – Clearly the most common type of content. But we can go a step further and specify some parameters. How long should it be? How many images? Unique or curated?
Neil Patel says that, "longer posts usually perform better on every level".
Here are his reasons why.
The first is the fact that a higher word count typically results in more search traffic. There are more than 200 factors that influence how your content ranks in the SERPs. Evidence suggests that the more content your page has, the better chance it has of a top position in Google results.
SerpIQ studied search results rank based on content length. Here's what they found: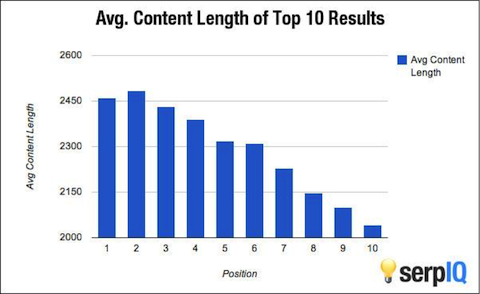 The higher the Google SERP position, the more content the page has. Notice that every one of these first page results has content exceeding 2,000 words.
Google's web crawler, Googlebot, is responsible for indexing your site. When it does so, it looks at every single word, tag, and particle of information (with a few exceptions like rich media files and dynamic pages).
There are different content types that get indexed — page title, headlines (H1, H2, H3, etc.), metadata, alt tags on images, etc.
The more content you have, the more of it gets indexed. The more that gets indexed, the better it will perform in searches and results. It's just that simple.
Read Neil's full article here.
When it comes to images the goal is to break up the content to make it easier for the reader to skim through. A good rule to follow is approximately 3-4 paragraphs and then some type of text breaker.
A text breaker can be an image, headline, list, quote, etc. Essentially, it is anything that allows you to break up the text blocks.
And lastly unique vs. curated. Which is better and how often? So should you be creating or curating?
Tristan Handy at Convice and Convert says, "it isn't really between creation and curation – you should be doing both. The question is really what mix of the two strategies you should employ".
He studied 150,000 social media posts and found that curation dominates in terms of clicks.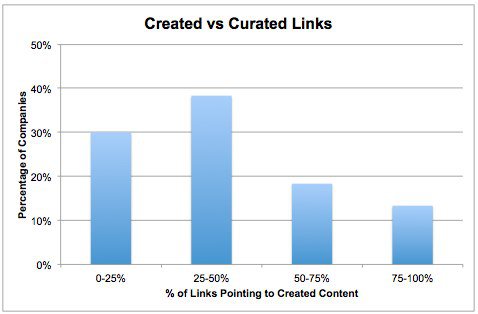 Posts linking to third-party sites generate 33% more clicks than posts linking to owned sites.
However, if you're looking to drive conversions, content creation is the optimal strategy. Posts that link to your website have a 54% higher click-to-conversion rate than posts that link to third-party websites.
Polls and Quizzes – The benefit of polls and quizzes is that they can get you instantly engaging with your audience.
Throw in a free download and watch how effective they are with list building.
But there is a difference between the two.
You may think quizzes are the same as Polls, but they are completely different. A poll is more about what the person taking the poll thinks, where a quiz is much more about the person taking the quiz. Quizzes with titles like "What kind of Super-Hero are You" have gone viral on social media sites, and in fact, some of the most shared content on social media in 2014 were quizzes. via Top 7 Content Marketing Ideas for 2015 and Beyond
Images – Whatever type of content you are using it should always include some type of image.
However, images alone can serve as the entirety of your content.
Slideshares, infographics, pinnables…and so on. Do you see where I am going here?
Here are some great statistics about images.
1) 90% of information transmitted to the brain is visual, and visuals are processed 60,000X faster in the brain than text. (Sources: 3M Corporation and Zabisco)
2) 40% of people will respond better to visual information than plain text. (Source: Zabisco)
3) 46.1% of people say a website's design is the number one criterion for discerning the credibility of the company. (Source: Stanford Persuasive Technology Lab)
4) Publishers who use infographics grow in traffic an average of 12% more than those who don't. (Source: AnsonAlex)
5) Posts with videos attract 3 times more inbound links than plain text posts. (Source: SEOmoz)
Click here to see the full list.
Videos – Over the last few years video has become all the rage. It allows the creator to communicate in a whole different way.
Divi Fernando says, "Visual content that is interesting, unique and of high-quality will arouse strong feelings within its audience".
Feelings Evoked By Video

1. Trust

2. Curiosity

3. Confidence

4. Amusement

Read more here.
Final Thoughts
Coming up with great content ideas is not easy, but once you apply these tips and guidelines I'm sure this tough challenge will be behind you.
Remember it all starts with knowing your audience. So take the time to get to know them well. Find out exactly what they are struggling with. What are the main problems they are faced with. What was it that brought them to your site. Once you understand this and then give them exactly what they need you will be well on your way to build a list of loyal followers.
Don't forget to build a swipe file. Ideas can come from anywhere so by having this in place it will just become routine to add to it. Then when you are ready to write the ideas are there waiting for you.
And don't forget about tools like KudaniCloud and Headlinr. Both will help you find those great ideas quickly.
Once you get in the swing of it I'm positive you will have more ideas than you can possibly write about.
Want even more? Looking for a tool that helps you do this in minutes? Click Here