9 Unique Ways to Capture Optins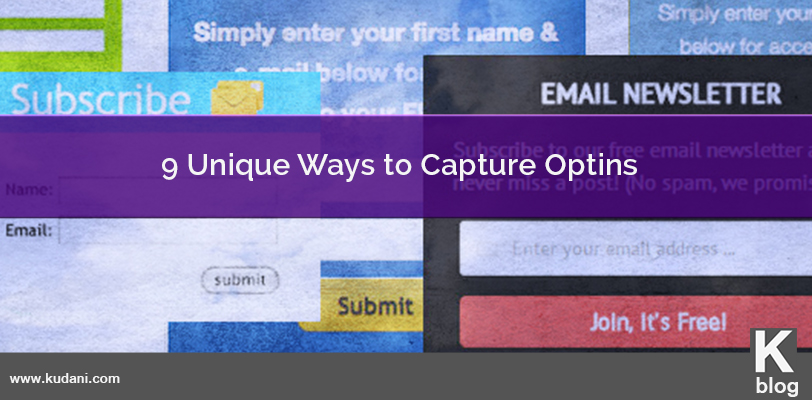 Building an email list is essential for any business. Subscribers are your life line. However, it is getting more difficult than ever to get people opting in. No longer are your readers as easily enticed by your freebies. Therefore, you need to think outside the box and find ways that are new and unique. Innovation is the key!
Now before we get started let's be clear about one thing. List building does NOT have to be confined to the digital world. Go offline and you would be surprised at the response.
1. Johnny Boards
Please excuse the name, and forgive how unglamorous this tip is. But johnny boards work like gangbusters. They get some of the highest conversion rates of any printed advertisements. So what's a johnny board?
They're advertisements placed in bathrooms.
Clearly, your corporate office may not benefit from this tip (though when I visited Google, I found johnny boards in their bathrooms, announcing corporate news and productivity tips).
If you've got a service business or a restaurant, or any kind of business that needs a bathroom, this is actually one of the best ways to build your list. As with any email list building prompt, include a great incentive and make it easy to sign up.
Don't forget to make it fun. If you're going to invade people's private moments to ask for their email, you might as well have a sense of humor about it. "Got a moment?" seems to be a good opening. View Tip Source
2. Create a Fiverr Gig
Matt Wolfe wrote a great article on 7 outside the box ways of growing your mailing list. I'll put the link below if you want to have a read.
One of the things that really stood out for me was the Fiverr gig. I mean how many people would every think to use this as a way of building their list. Well maybe you have, but for me this was a new one.
Here's Matt's story in his own words…
I recently did an experiment on Fiverr.com. I wanted to test selling an info-product through their platform.
I created a series of training videos on how to quickly create a book and then I created a gig page on Fiverr to sell the training.
I was quickly surprised when it sold something like 15 copies in the first day without any promotion.
At this point I decided I'd give my gig a little boost… I figured that if I managed to create some sales by promoting on Facebook and letting my existing list know that the gig existed it would create a snowball effect, boosting my rank on Fiverr and generating even more "organic" sales from their system.
It worked… Over the next several days I received hundreds of sales on the gig. To this day the gig still makes about one or two sales per day…
In only dawned on me about a week ago that I wasn't building a list from this…
I quickly added a link below my training videos where I linked to an opt-in page… I told buyers that I'd give them a free case study on how to generate sales through Fiverr in exchange for their email…
Here's what the gig looks like:
Here's what happens when you click "Click Here For More Good Stuff":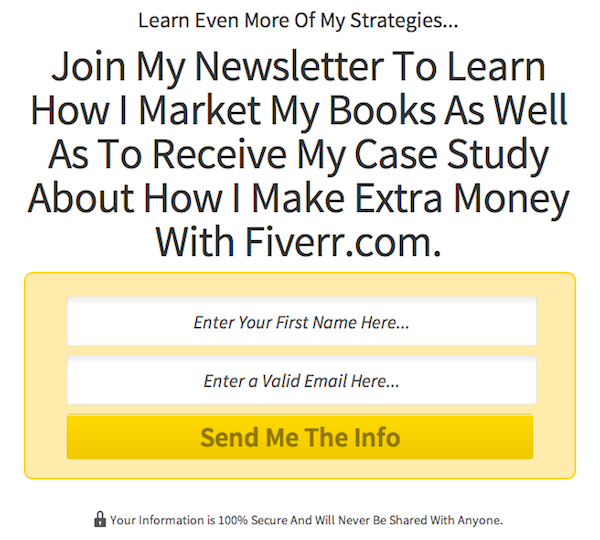 He's really kicking himself now for not starting this earlier. In his first week alone he got 34 subscribers. Read more about Matt's great tips here.
3. The Content Upgrade
This is a great technique that I am seeing more and more of everyday. Sure we are used to seeing freebies offered at the end of a post or in the sidebar, but what makes this unique is that it is highly targetting to the post you just read.
A great example I recently came across was a list type post, much like this one, but then at the end it said 'Do you want 25 more….' tips. Well if you loved the post how likely are you going to want more? Brilliant!
VideoFruit is great at doing this. Not only does he get you hyped with his content, but by the time you get to the end of the post you're just dying to click on that download link to grab whatever related content he is giving away.
Remember the key here is that the content is laser targeted. No more generic ebooks. Now granted this will take you a lot more time, but the real question is 'what's a new subscriber worth?'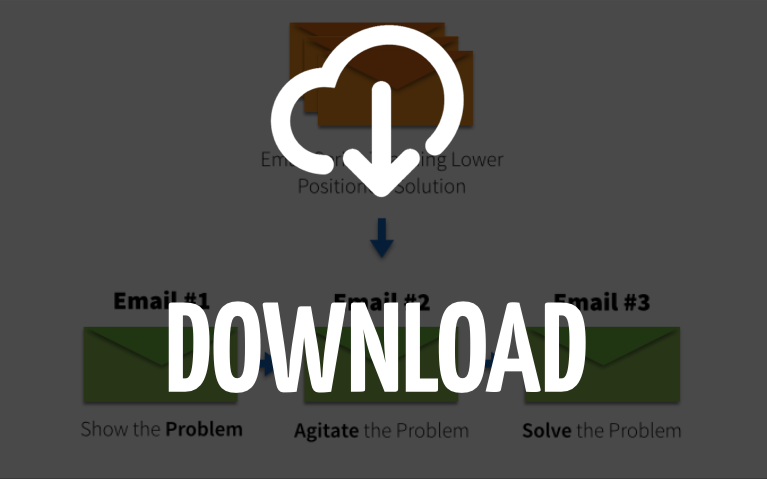 Clay Collins from LeadPages started using the content upgrade option strategy and went from 5 email addresses to 100 for every 1,000 visitors.
How to Create Your Content Upgrade
Find a high traffic post on your blog — Use your analytics tool (e.g. Google Analytics) to find a blog post that consistently gets the most traffic.

Create a resource that builds upon the existing content — Your content upgrade should enhance the content from its corresponding blog post. Here are some examples you can use: a PDF checklist that summarizes the critical information or action steps, downloadable PDF version of the article, video walkthrough, expert interview, infographic, list of additional resources, excel spreadsheets, swipe files, templates, and exact word-for-word scripts.

Add the content upgrade to your blog post — Use a callout box to promote your content upgrade at the beginning of your article. Then turn the conclusion of your post into a description of the content upgrade and what visitors will get when they download it.

Rinse and repeat — Once you start seeing a lift in your conversion rate on that post, repeat the same process for another high traffic blog post. Experiment with different types of content upgrades and find out what works best for your audience. Tutorial by Spencer Lanoue from User Testing
4. App For Emails
Probably one of the most advanced ways to build your email today is to create an app or WordPress plugin of some kind. In order to access it, users need to enter in an email address. This the ultimate "content upgrade" because instead of just being content it's a tool that helps your target audience get closer to a key goal of their's. How to do it:
Identify a key problem your audience has or a critical goal that you can help them with achieving (e.g. tracking time, organizing data, analytics)
Build the app (keep it simple to start — after all you want to give it away for free with the goal being to garner more email subscribers)
Promote it: link to it or feature it on your homepage, feature it in the sidebar of your blog.
Here are two examples of this strategy in action: QuickSprout.com Website Grader – This app helps website owners to grade how optimized their website is for search engines. Note: Neil Patel, the founder, found that conversion rates from usage to email optin were higher when the email address wasn't requested upfront, instead just the website URL.
Planscope.io – This app helps freelancers and teams plan web design and development projects, track time, and track progress.

5. Hero Image Optin
Some of the biggest sites are now doing this.
What am I talking about?
The hero image is the image you see above the fold of your website. Quite often we see a slider here or an image with a video play button or some other call to action.
Well sites like Uber, Spotify, AppSumo, QuickSprout and Instagram are using this valuable real estate and turning it into a list building opportunity.
AppSumo tested this concept and said that it, "was three time more effective than any other page we've ever built". That's pretty powerful coming from a site that is all about creating high converting pages.
Here's what there's looks like: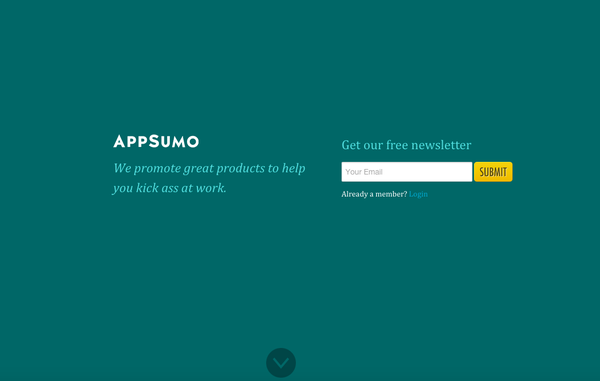 As you can see it's super simple, but gets to the point.
In fact, they were so excited about this that they actually went out and built a super easy tool that lets you do it in minutes called 'Welcome Mat'.
The Welcome Mat lays over your existing website so there is no need to change the site itself.
6. Ask Your Readers to Unsubscribe
When I first heard about this strategy I thought it was insane. Why in the world would you ask people to unsubscribe when your whole intention is to get them to subscribe. But once I wrapped my head around the teachings of marketing consultant, D Bnonn Tennant, it all made sense.
If there are three ways we instinctively judge our prowess as email marketers, it is these:
High open rates
High click rates
Low unsubscribe rates
Tennant says, "In a perfect world, a click and open rate of 100% would be matched to an unsubscribe rate of zero. But we don't live in a perfect world—and that is why I actively try to get people to unsubscribe from my email lists".
He goes on to explain that the reason we don't get perfect and open click rates is that our lists are filled with customer that are not ideal. Some such customers maybe people that don't have the money to spend, looking for freebies, don't actually currently have a problem to solve and so on. These types of subscribers are not what you want on your list anyways.
This means that it is you that is paying your email service to have them on your list. You are sending them emails with no return on your investment. Why?
"What happens when you biff poor prospects is your overall list quality goes up. So your open rates, click rates, and ultimately your conversion rates increase—at the expense of your unsubscribe rate. That's a good trade" claims Tennant.
Here are Tennant's four ways of getting people to unsubscribe.
1. Asking readers if they really want my emails
2. Emailing Every Day (ish)
3. Pitching in every email
4. Asking readers who don't open my emails to leave
Another thing to consider is that by asking them to unsubscribe this may in fact ignite curiosity and they may just revert to the kind of reader you are looking for. At least here's hoping.
Read more about Tennant's methods here.
7. Get Email Sign-Ups Right on Twitter
Product Hunt founder Ryan Hoover keeps an active Twitter search to spot tweets sharing his writing across the web (he does so by searching for the URL of each post). When he sees such a tweet, he's replies to the individual with a personalized note of thanks. Such as, "Thanks for sharing, Grant :)" But he doesn't stop there.
If that individual replies again, Ryan sends this follow up:
thanks! Btw, if you're interested, you can subscribe to my blog at https://cards.twitter.com/cards/8l0e7/1gt
The link, cards.twitter.com, is Twitter's Lead Generation Cards, a feature available to advertisers on Twitter—or in other words, anyone who enters their credit card at ads.twitter.com.
"By simply including a link within my tweet, the card is embedded, giving users the ability to subscribe to my email list with a single click. It's beautifully simple," Ryan writes on his blog.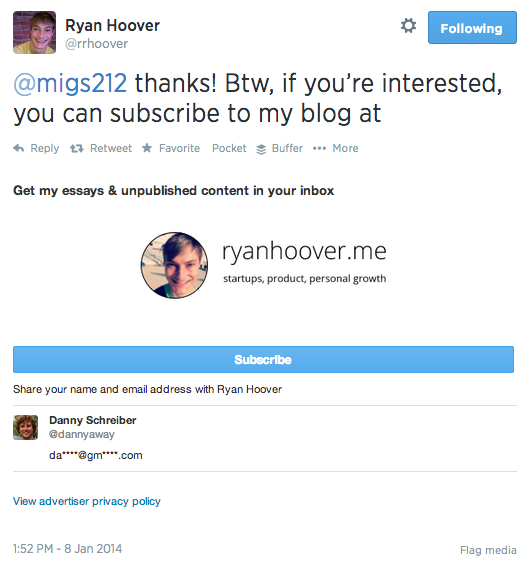 Ryan's conversion rate after a few weeks: 60-80%
Here's why he thinks it works:
They're primed. They have already shown an interest in my writing and the small sign of personal, human interaction (e.g. "@grantwebster thanks for sharing, Grant! :)") compels people to reciprocate.
It's damn easy. With a single click, they're subscribed. They don't even need to verify their email address. By reducing friction, conversion increase.
This method is neither quick nor automated for the marketer, Ryan admits, but it is effective. If you're strapped for time it might not be the method for you—in fact, since Product Hunt started taking off, Ryan himself has halted sending these manual reply tweets. Though you'll still find folks like Gary Vaynerchuk, Benedict Evans and Paul Jarvis from using this hack, though they've simply shared it in their main Twitter stream.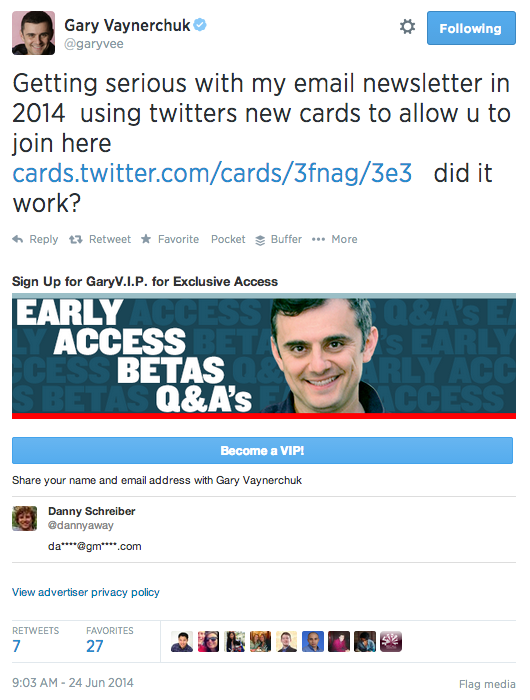 Great tip from Danny Schreiber at Zapier. Read the full article here.
8. Write a Kindle Book
This is yet another strategy that I am seeing more and more of.
Amazon requires that you offer your book for free for a certain number of days per year, but what caught my interest was how many of the same books kept appearing over and over again in the free lists.
So I downloaded a bunch and noticed that all of them had links to other books, products, etc. but many as well asked you to sign up to their list.
A recent article in CopyBlogger explained the advantages of building that strong connection with your readers.
Here's how you can take advantage of the valuable connection you've built with your book readers:
Create a free bonus related to your book. This can be an audio file, a report, an extra chapter, or worksheets to accompany the advice in your book.
Promote the free bonus at the start of your book and at the end of your book. If it doesn't interrupt the flow of your book, you can promote your bonus at the end of a couple of chapters, too. But don't overdo it. You don't want to come across as a sleazy salesman who only wants to seduce readers to opt-in to a spammy list.
Create a landing page for your free bonus. Get readers to opt-in to your email list before downloading the bonus material. Be up front and let them know you'll email them weekly or monthly tips (whichever your frequency is).
9. Crowdsource Product Ideas
A few months ago, Kristina Allen launched Lilypad Candles, a store that sells eco-friendly soy candles. Kristina's email list was nonexistent. She had zero email addresses.
What she did have was a plan. She knew that giveaways are a great way to increase community and even grow her email list, and she wanted to take advantage of that power.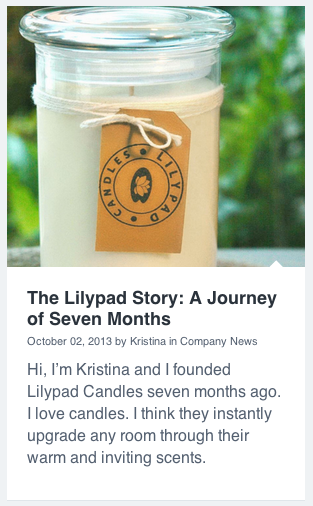 Kristina considered her target audience, what prize would most appeal to that audience and how she could gain emails and feedback via the entry form. She knew she wanted to host the giveaway on her company's Facebook page because she wanted to grow her number of fans in addition to her email list.
Since email lists are most successful when members are truly interested in what you have to share, Kristina opted to give away $100 worth of candles to a randomly selected Facebook fan who opted into her email list.
Offering her fans $100 worth of candles (instead of a big-ticket item like an iPad) helped weed out the people who just wanted to win something and weren't interested in her product.
Kristina used ShortStack to create her giveaway landing page. Notice how she required users to answer a poll about their favorite candle scent.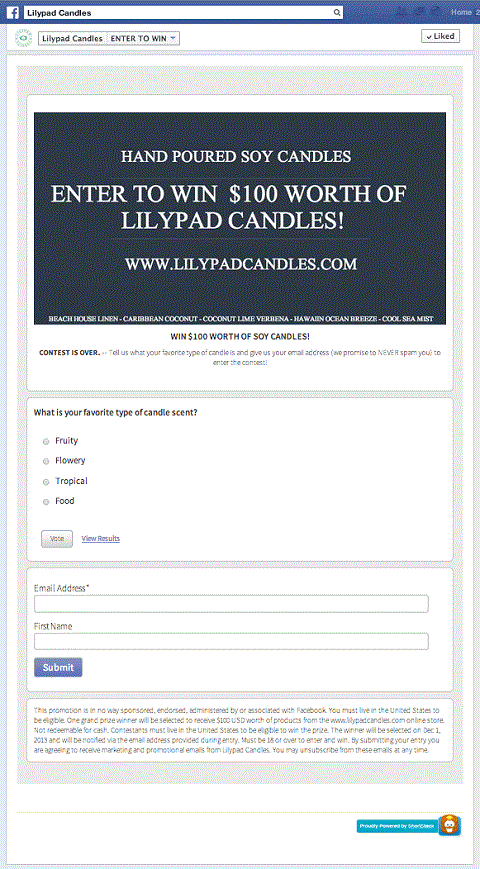 Kristina included the poll because it was a simple step for her fans, but gave her important information about what her customers were interested in. She can use that feedback to create the products her customers want.
On the first day of the giveaway, her business acquired 200 emails, not to mention new Facebook fans. Pretty impressive for a brand-new company with no email list!
Great tips by John Haydon at Social Media Examiner. Read the rest of his post here.
Closing Thoughts
Now whether you are a seasoned marketer or just starting out it's always a good idea to re-think your strategies. Sometimes it's as small as changing the wording or positioning of your optin that could make all the difference.
What are some of your favourite strategies? How have they worked for you?