500 Blog Post Ideas To Get You Inspired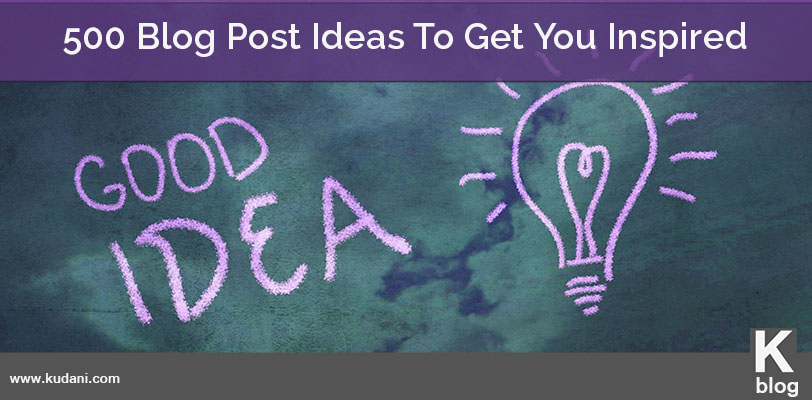 Wondering what to write about? Stuck for ideas?
This is one of the greatest dilemmas faced by all writers online. Consistently coming up with fresh, unique, blog post ideas to keep your readers engaged is an arduous task to say the least.
We've put together 500 blog post ideas. Simply scroll through the list, grab what interests you, and start writing. No more wasting time surfing the internet for ideas.
But how can I turn these 500 ideas into 1000 or even 2000?
Simple. Do what we do…use any one of our favourite strategies.
Idea Expander Strategy
The basis of this strategy is to take one idea and expand it numerous times.
One of the most common blog post ideas is the list post. It's proven to be highly effective, often the most shared, and has a higher probability of going viral. It is definitely one that you should re-use over and over again.
Using this example let's expand it 10 times.
Blog Post Idea: The List Post
10 Books You Should Start Reading Today
25 Influential People You Should Follow On Twitter
Top 50 Blogs You Should Be Reading
30 Resources That Will Change The Way You Work
100 Must Have Resources
15 Common Misconceptions About Content Marketing
20 Most Common Questions Asked By Marketing Newbies
Top 10 Trending Stories This Week
500 Must See YouTube Videos
30 Podcasts You Need To Be Listening To Weekly
With the list posts the possibilities are endless. Essentially, pick a number and add something that is easy to pull together but also interesting.
Here's another example. This one is a little bit more challenging, but watch how I create another 10 blog post topics.
Blog Post Idea: The Series Post
21 Days of Content Marketing Tips
10 Days 10 Influential People
Master Blog Writing In 30 Days – One Lesson Per Day
Weekly Marketing Tips For Newbies
Tuesday Podcasts With 'X'
30 Day Case Study Diary
90 Day Weight Loss Workout Plan
Monthly Product Reviews
Top YouTube Videos – Weekly Roundup
Monday's Motivational Quotes
The great thing about writing a series is that you already have your blog post idea for a set period of time. It makes it easier for you to research, while at the same time it's exciting for your readers. Series posts keep visitors engaged and coming back for more.
So essentially, the idea expander takes into account the common elements of a blog post idea and adds in a unique topic or theme. You can take any idea and apply this strategy.
Here's one for you to try –
10 Simple Steps To _________________________________
This one is super easy just fill in the blank with ten different nouns (hint: gardening).
Once you have your 10 ideas then you just schedule them into your editorial calendar over a number of weeks so that the ideas are not repetitive. For example, you could even do a monthly series on '10 Simple Steps'. It's all about re-purposing and reusing.
Word Linker Strategy
Word linkers are 2-3 word phrases that you can add any subject to. These are great to get ideas flowing. They work with every niche and are easy to research content for.
Here are some examples:
How to…   (How To Create Irresistible Headlines)
Worst / Best… (Best 10 Content Marketing Strategies)
Get Rid Of… (Get Rid Of Writers Block Today)
The Lazy Mans… (The Lazy Man's Traffic Strategy)
Be The First To… (Be The First To Try Our Keyword Software)
Before And After… (Before And After Website Makeovers)
Shocking Truth About… (Shocking Truth About Weight Loss Revealed)
Behind The Scenes… (Behind The Scenes Look At The Real World of Marketing)
Do It Yourself… (Do It Yourself Copy Writing Series)
Highly Recommended… (Highly Recommended Content Marketing Tips)
Brain Stimulator Strategy
Generate tons of blog post ideas with questions. According to Courtney Seiter from BufferApp, " Questions are powerful in the brain because they prime our curiosity. Just seeing a question mark starts to stimulate your brain; whereas if you already know what you're going to get from something like a headline, your curiosity might be over before it can even start."
She continues to say that, "The best question headlines ask something that the reader can empathize with or relate to or would like to see answered."
So how do find these types of questions?
Easy. Go to websites that are dedicated for asking and answering questions. Here you will find exactly the types of questions that people want answers to. Some will have great answers already provided, which is extremely helpful in building the outline of your post.
5 Of Our Favourite Sites For Questions
Here are some great example found on Quora.
What are the best content curation software platforms?
Does content marketing actually work?
What are some common beginner mistakes in content marketing?
What are easy ways to generate web traffic and rankings?
What are the best blog posts you've ever read?
What is the difference between keyword spamming, keyword stuffing and keyword density?
What are the must-have tools for SEO professionals?
How do you measure social media ROI?
How can I generate website traffic with $0 marketing budget?
How does one learn to become an Online Reputation Management expert?
Headliner Strategy
While this one may seem obvious it often gets overlooked.
A great headline can also be a great blog post idea as most will tell you exactly what the post will be about. In many ways they are synonymous.
For example, the headline '10 Super Easy Gluten Free Recipes' tells me exactly what content you need to find to create this post.
Tools like Headlinr are fantastic for this purpose. Enter a seed keyword and scroll through hundreds of blog post ideas.
Here are 10 of our favourites:
Top 5 Content Marketing Reviews
5 Things You Need To Know About Email Marketing
Step By Step Guide To Growing Your List
10 Tips To Master Content Curation
Proven Social Media Techniques That Work
15 Must Have Niche Research Resources
10 Easy Traffic Conversion Lessons
Advantages And Disadvantages Of Starting A Blog
30 Minutes Infographics Tutorial
Most Common Grammar And Spelling Errors
If you've enjoyed these tips and you are ready to start expanding ideas or just want to grab one and start writing then download our 500 Must Have Blog Post Ideas right now. And if you've got some ideas that we've missed add them in the comments below.
Click Here to Download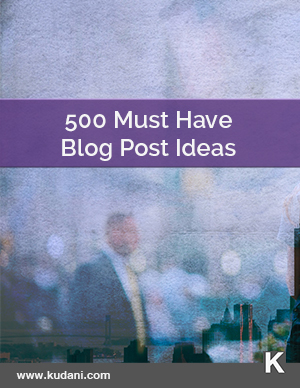 Click Here to Download