10 Top Trends Driving Content Marketing
Content marketing provides numerous opportunities for businesses to engage with prospective customers, increase ROI, and to build trust and brand exposure.
While it's been around for some time, it seems that it has made real headway in the last few years with more companies than ever recognizing it's value.
What if I told you, 41 percent of marketers confirm content marketing has a positive return on investment. And that buyers are most likely to share blog posts and infographics more than any other content form.
Did you know that content marketing is now defined as using or creating content that is not promotional but interesting and valuable in itself. And that successful content marketing is essentially based on real value added to readers and search rankings.
Here are some stats I think you will find interesting from Expresswriters.
9/10 B2B marketers in North America use content marketing
60% of marketers use content marketing weekly
82% of prospects find relevant industry content most valuable
Quality is the number one ranking factor
Content curation is becoming mainstream
If you want some more great stats and to see the six key factors of content success in 2015 scroll down to the infographic at end of this article.
According to the Content Marketing Institute's annual state-of-the-industry survey, 2015 Benchmarks, Budgets, and Trends, 69% of SMB's are producing more content than they were a year ago, and 59% of those surveyed are planning to increase their content marketing budget in the next year.
While 71% say they still spend most of their marketing budget on traditional print and other offline marketing promotions, yet only 46% of those think it's effective, with 57% saying SEO content marketing shows better results. The survey also shows that content marketing is still in it's infancy, with companies struggling to decide which content works best for them, the best ways to produce that content, and how to measure its effectiveness.
Justin Ledvina says, "2015 is shaping up to be one of the best years yet for content marketing."
It's definitely an exciting time. Tons of new opportunities, new platforms like KudaniCloud to simplify the process, and varied formats to create content. Just take a look at the B2B content marketing usage stats below.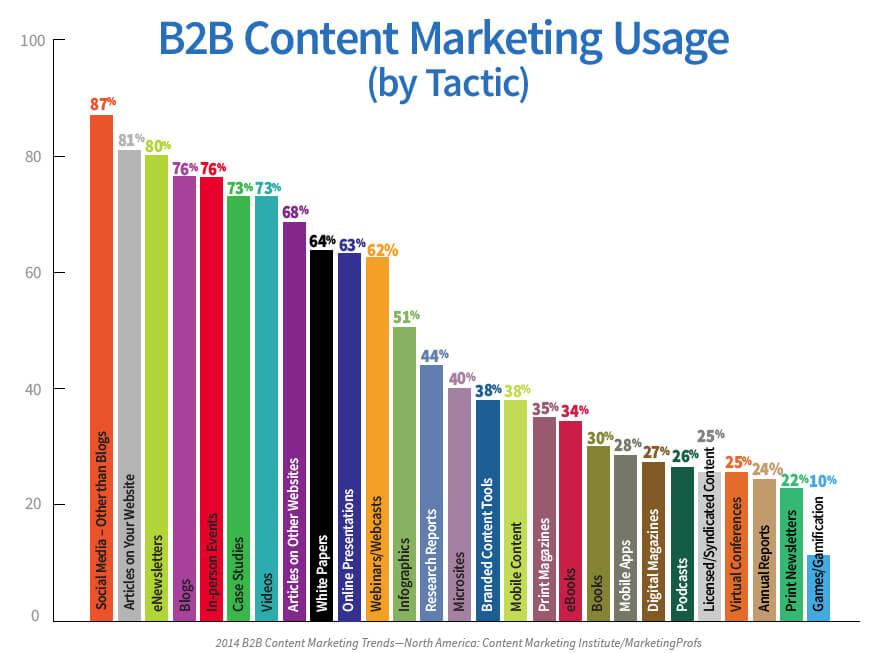 via: Rocket Responder
Lots of exciting trends have also emerged in content marketing. Here are the top trends were seeing.
Top Content Marketing Trends
1. User-Generated/Curated Content is Booming
As the rise of chat apps demonstrates, people increasingly want to communicate with their peers in an intimate environment. Instead of celebrities, studios, or even media companies, people are seeking out content created by fellow amateurs.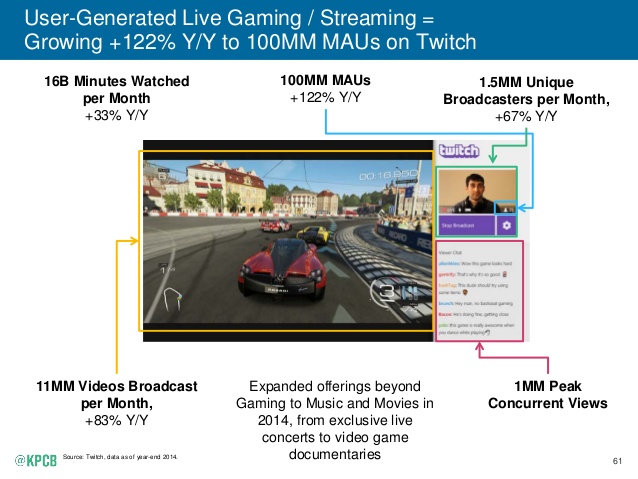 Take Twitch, the live-streaming platform purchased by Amazon back in 2014. As the slide above demonstrates, Twitch has seen exponential year-to-year growth. Yet the platform confounds pretty much everyone over 35: Why would you want to watch strangers play video games? Couldn't you just play them yourself?
Sure you could, but what those questions fail to consider is the communal draw of user-generated content sites like Twitch. Streamers regularly interact with viewers on Twitch, and the sense of community is readily apparent to anyone who has spent extended time on the platform.
This is also true on the other platforms Meeker calls attention to, such as Pinterest, SoundCloud, and Wattpad. All of these sites rely on user-generated or -curated content, and they've all seen ridiculous growth. Basically, if you thought traditional media had lost its influence and power before, the process is actually just beginning.
Put simply: Content creation is becoming more bottom-up instead of top-down. For brands set up to to take advantage of this trend—GoPro, for example—the windfall could be huge.
via 5 Takeaways For Content Marketers From Mary Meeker's Internet Trends Report
2. Demand for How-to Content is On the Rise
Plenty of publications have taken advantage of the digital medium to provide how-to guides for the internet. However, video is one of the best mediums this type of content.
It seems consumers understand this and according to a report from Google, more and more people are turning to YouTube to search for how-to videos. Indeed, some of the most popular channels on YouTube provide tutorials and how-tos on just about anything you can imagine.
And brands are using this demand for how-to content to connect with consumers in useful and meaningful ways.
via Demand for How-to Content on YouTube is On the Rise
3. Storytelling is the Game Changer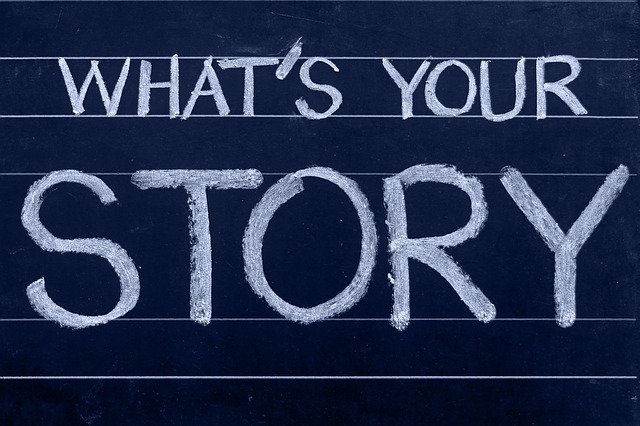 Let's face it people love a great story…especially if it taps into some kind of emotion. There really is no product that I would want to buy where I want to listen to a company brand advertisement over a heartfelt story by a consumer.
It's this connection through stories that allows people to resonate and connect and ultimately discover new products. This also speaks to the increase of users reading customer reviews before buying products.
Stan from Pushing Social says, "Design is the giant killer from a look and feel perspective.  Storytelling is the game changer since it effectively positions you in the mind of the customer.  Your story needs to creatively and authentically give the reason why for your value proposition.
Authentic storytelling must be understood to be executed properly: "Storytelling is going to require brands to think and act differently. They will have to be even more customer-centric. They will need intimate knowledge of their customers that goes way beyond product. At the same time, brands need to be creative, flexible and agile to deliver stories that are personal, relevant and timely," reports Salesforce.
4. Visually Appealing Content
This year, more and more companies are looking to create videos, infographics and photos, which are visually appealing and engaging in equal measures and create a rich experience for users. Creative infographic designs can surely take your content to the people to summon their attention.
Larger stylized images seem to be all the rage in blogs. It's the visual stimulation that keeps readers on pages longer. Just think about how beautiful some of the images of recipes are, or cars, interior decorating…essentially any niche. And it's fairly easy to find a filter and a font to brand your images. Copyblogger, Social Media Examiner, and Content Marketing Institute are a few that jump out. These business have branded their images. I don't even have to look at the site to know where the article is from. That is great branding.
But creating these visually appealing images was not always easy. In fact, the emergence of easy to use tools has been synonymous with this growing trend.
Tools like KudaniCloud, Pic Monkey and Canva let you design like a pro without any graphic design training. And creating infographics and videos is just as easy with tons of great tools available today.
5. SEO + Content + Social Media = Ranking
SEO and content marketing could co-exist as two separate related subjects. However, they increasingly rely on each other AND social media for success.
Companies who don't create focused content will see that their SEO tactics become ineffective and may even be hurting them in terms of search visibility. Content marketing has become a large part of search visibility and social sharing starts to play an increasingly important role. It makes sense that the more a blog, article or product review page is shared, the perception is that it is of higher quality and therefore should be at the top of search engine page results.
The goal of inbound marketers (and Google) is to provide searchers with the most relevant content possible. Logically, social shares should contribute to search results ranking.
In 2015, companies will continue to blend the use of the sales funnel, content, SEO and social media, to gain brand recognition, brand authority, and improve customer insights.
via The Morgan McKinley Student Series | Trends in Content Marketing for 2015
6. Social Media Marketing
Social media marketing and content marketing shall no longer play on different planes, but would rise on a common platform. The two ruling domains would progress hand-in-hand; complementing each other. The upcoming marketing mix assures of much more involvement of social network platforms. Websites such as LinkedIn have already emerged as the ultimate platforms to share content.
Justin Ledvina at Rocket Responder says, "Social media will become even more important for content distribution. Most SMB's already realize the importance of having a strong social media presence, but the way content is used is changing, and there's a lot of competition out there. Look for more emphasis on paid advertising and promoted posts, and believe it or not new social media platforms. Yes, they're cooking up even more ways to waste time, but that's good news for content marketers."
Maintaining active social media channels will require regular posting of mixed media content at regular intervals and tons of it. When people are engaged they share, like, tweet, etc. Self promotion is not the way to go, but rather provided the best content available in your niche.
7. Optimization for Mobile Devices Will Become More Important Than Ever
It is estimated that nearly 40% of all online commerce occurs via mobile devices such as smartphones and tablets, and this number is estimated to increase dramatically over the next five years. If your website, booking engine or shopping cart is not optimized for mobile devices, you will be left behind – and more importantly, you will lose sales and hurt your financial performance.
8. Users Will Demand More Interaction
Users love to feel involved with the content they consume, and their demand for such interactivity will only increase as technologies become more capable of allowing it. Your blogs will need to speak directly to people and compel them to engage. You'll need to sponsor user participation through promotions and invitations. You'll need to include functional participation features like surveys and quizzes. Make it personally inviting, and get your readers actively involved.
"Marketers must understand what motivates people and embrace marketing techniques that inspire participation with their brand," notes Middleton. "Everyone from moms and dads to baby boomers and Millennials are actively engaged in the Participation Age. The greatest opportunity is to interact with people across the social sphere through their networks and on their own time, in their own space and on their own terms."
9. Budgets Will Grow
So far, content marketing has largely been done on a shoe string, relatively speaking. The potential rewards, though, mean that the big brands will throw major money at it. Hollywood films, network television shows, video games and more will invest heavily in content. Expect to see it happen soon.
But today, it seems like content marketers are finally being taken seriously. According to a recent eMarketer report, content marketers are not only saying sayonara to the fight for budget — they're actually getting more budget to produce more and better results.
But as anyone who lived through the 90s knows, mo' money mo' problems. 71% of marketers are getting an increased content marketing budget … but it turns out we're not all too sure what exactly to do with it.
While content marketing has been around for years it is the ROI variable that continues to be a challenge. However, most recent efforts show positive movement in this regard.
10. Distribution Becomes a Priority
Because of the content overload, marketers are paying more attention to how they distribute and publish content than ever. This means that time and effort is invested not only in creating engaging content, but in analyzing available distribution channels, and comparing them to see which are the most effective. Brands that identify the best social networks and marketing channels for their business fare better than those that post content indiscriminately on all social sites they encounter.
Closing Thoughts
Increasing budgets, positive ROI, higher engagement, and overall better rankings are all driving the latest content marketing trends. It really is an exciting time. But there still are businesses that are lagging behind. If you are one of those and not sure what direction to take then start by looking at some of the software platforms available. These types of tools, such as KudaniCloud, will significantly improve content creation, syndication, distribution and planning.
Infographic: The Ultimate State of Content Marketing in 2015

Infographic brought to you by Expresswriters.