6 Content Marketing Mistakes Every New Content Marketer Makes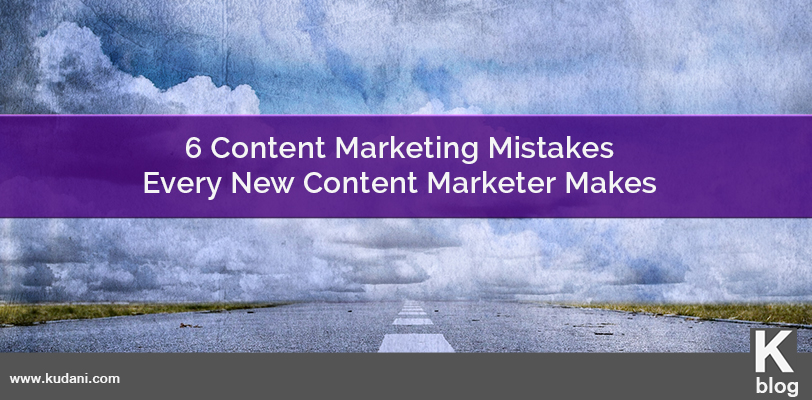 Content marketing is super hot right now with tons of people wanting to jump on board. But as with anything new there are some growing pains that have to be endured.
Learning how to do content marketing is not difficult, but recognizing whether or not you are making mistakes that are costing you customers is the bigger challenge. Often we fail to see what we are doing wrong. Or maybe we have just been give bad advice.
So today I want to share with you the 6 most common content marketing mistakes that newbies make. These mistakes can be fixed almost instantly. So ask yourself "Do I do this?" and if so make the correction today.
Content Marketing Mistakes You Want to Fix Today
Mistake #1: Not Having a Unique Voice
Anyone of us can grab any topic on the internet and write about it, but what makes people want to stay on your site and read your content is the way the content is delivered. By injecting a little bit of your personality, the reader begins to feel an instant connection with you. And it's those connections that build relationships that then lead to lifelong customers.
Creating a unique voice does not mean trying to create some kind of character. It's simply letting people get a little glimpse of you. Are you quirky? Are you funny? Are you serious? And are there bits and pieces of that coming through? Read over your last 2 posts and see if there are snippets of your personality there. If not, try making some small changes by adding in a few sentences here or there and see if your engagement start to increase.
Mistake #2: Forgetting to Seize EVERY Opportunity to Grab an Email
List building is one of the most important things for content marketers. Your subscribers are your leads and each one is an opportunity to promote to. Try adding an optin form in the middle or end of each post, or even just a link inviting your visitors to a free offer, and what about using gating tools.
Here's what Modern Media had to say about it…
By 'gating' we mean locking the content behind a data capture form – a key tool in lead generation. Depending on the type of content you create will depend on whether you want to lock it away or give it freely. There are different reasons why you might choose to do either.  via 9 Big Content Marketing Mistakes » Modern Media
As you can see there are a number of tools that can be used. The best way to determine which one works with your visitors is through split testing. Try different tests on different posts and see which ones get you the most subscribers.
Mistake #3: Creating Only Blog Posts
This is a huge mistake that almost every content marketer makes when they first start out. They create a great post, add an image, and then continue to rinse and repeat.
You need to have all types of content from ebooks, to infographics, to videos, white papers if you are a business, blog graphics for the pinners our there, and so on.
Adam Bruk says, "You want to diversify your content, and you shouldn't focus on just one approach. Your readers may get bored if you just share blog posts or infographics, so switch it up to keep your customers interested in your next content piece". via The Six Biggest Content Marketing Mistakes You're Making …
Mistake #4: You Think That it's All About You
I see this every single day. This whole me-me-me approach is not going to serve you for long.
Talking only about yourself or your product is probably the fastest way to get your visitors to leave your website.
Don't focus on you – it's about them, not you.  Your customers and potential customers want you to address their needs and concerns, not describe features and benefits.  Understanding your customer and your audience is the only way to write content that is relevant to them and will resonate with them.  If you want to build your customer base and better relationships with them you have to understand and serve their needs, not yours. via 5 Of The Biggest Mistakes To Avoid In Your Content Marketing
Mistake #5: Not Posting Consistently
Another huge mistake that is not only made by newbies, but veterans alike is inconsistent posting. And I can say with all honesty, and a little bit of embarrassment that I am guilty of this. It's so easy to get busy with other stuff that the posting of new content just seems to take a back seat.
Amanda Clark, from Business2Community.com, says "Skipping the occasional post isn't the end of the world. In fact, most users won't even notice. On the other hand, this can lead to a bad habit and lazy copywriting down the road." via 5 Major Content Marketing Mistakes To Avoid – Business 2 Community
It is precisely the bad habits that we want to avoid. The best solution for this is to use an editorial calendar. Excel is great for this. Simply download a free calendar template and start filling it in. Make sure to include all types of content and color code the cells so you can visually see your diversification strategy.
Mistake #6: Non-Engaging Headlines
Headlines are one of the most important factors to get right. You want them to instantly grab the attention of your visitor. List posts and ones that teach you something quickly seem to do really well.
Here's a great tool to see the emotional value of your headline.
This free tool will analyze your headline to determine the Emotional Marketing Value (EMV) score. As you know, reaching your customers in an deep and emotional way is a key to successful copywriting, and your headline is unquestionably the most important piece of copy you use to reach prospects.
Your headline will be analyzed and scored based on the total number of EMV words it has in relation to the total number of words it contains. This will determine the EMV score of your headline.via Advanced Marketing Institute
You simply copy and paste or type in your headline, select what category or niche you are working in, and click 'Submit For Analysis'.
Try copy and pasting in my headline, select 'media and communications' and see how I did.
Conclusion
Content marketing is an extremely effective way of engaging visitors and increasing your ROI, however, if you are doing it wrong you will not reap any of these benefits. Regardless of what industry or niche you are working in, if you are creating content then this applies to you.
Ask yourself if you are guilty of any of these mistakes and if so make the corrections today.