5 Reasons Every Business Needs a Content Marketing Strategy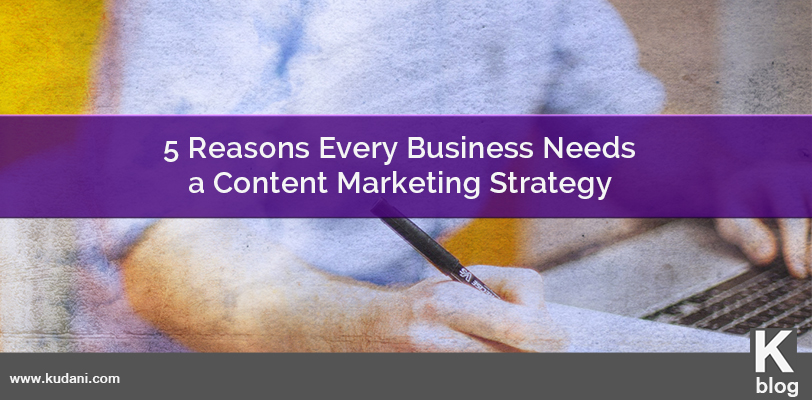 Everyone says you need a content marketing strategy. But why?
Simply put "organizations with a formal plan or content marketing strategy do better". via Content marketing strategy in plain English: getting started – i-SCOOP
Today more than 90% of all businesses are using some type of content marketing with 50% not having a structured plan. Without a formalized strategy you are almost guaranteed to fail.
Content marketing has proven to be effective because it is consumer focused. It allows for engagement and lasting relationships to be built.
It educates rather than pushes products and services to potential consumers. Storytelling has become the chosen tactic, which takes on a soft sell approach versus the hard sell that is so often seen with traditional marketing.
Content marketing allows you to give potential customers useful resources that are related to your products.
Engagement happens through creatively constructed blog posts, ebooks, videos, etc. all demonstrating knowledge and expertise in a given niche.
According to the Custom Content Council, content marketing is a $44 billion dollar industry, with many companies allocating as much as 39% of their marketing budget to content marketing. It's gone beyond big brands and become of paramount importance to the marketing strategy of every business large or small.
If you are still not convinced let's look at five reasons why every single business benefits from implementing a content marketing strategy.
5 Reasons Why
1. Expand Lead Generation Opportunities
Not all lead generation has to come from someone interested in purchasing your product right now. Instead, content marketing educates the potential consumer. It teaches them the benefits of your products and how they can essentially improve their lives.  Delivery of information can be through white papers, ebooks, membership portals, etc. all requiring contact details for free access.
2. Increase Brand Awareness
Repeated exposure is the key to brand awareness and conversions. The 'Rule of Seven' applies. This means that the potential consumer needs to see your brand or product seven times before responding. Guest blogging is a great way to increase exposure and drive traffic to your blog.
3. Build an Online Social Presence
Social media is another great way to engage with consumers. In today's day and age, social media has become essential to business succcess. An easy way to engage with visitors is through re-purposing content. Create clips from long videos, make lists from blog posts, design unique graphics, and so on. Use the content you have already created in multiple formats.
4. Make More Money
Convince and Convert proposes that one of the related benefits of content marketing being a major part of your overall marketing plan is that you position yourself to charge more. You set yourself apart from the competition, which helps to increase perceived value of your products and services. Consumers are likely to pay more to a company when they perceive higher value.
5. Position Yourself as an Industry Authority
Don't just become another brand among consumers, but rather take advantage of this opportunity to position yourself as an industry leader. Use content marketing to establish yourself in your given niche. Show that you are knowledgeable and someone that is worth partnering with on future ventures. Bob Burg says, "by taking the focus off yourself and instead advocating for your prospects and clients, you create the proper environment for your own expert positioning, or being the authority". via Position Yourself As The Authority in Your Field | Bob Burg
An effective content marketing strategy should naturally integrate with other marketing efforts, Essentially, it should be a part of a larger marketing mix whereby all of the parts work cohesively together.
Content marketing helps you grow your business with your most valuable asset…people.